Format: solo exhibition and fine art print series
Location: substrate gallery, los angeles, california
Exhibition: april 2018
H Club Residency: february 2019-20
Current Status: closed
SOVO// Magazine is pleased to present their first half-issue, [ Issue 1.5 ]; a four hour pop up solo exhibition of 21 original contemporary abstract paintings by Gianfranco Cioffi, a local LA artist using this opportunity to express both the beauty and the pain of untangling oneself from life's imperfections using sumi ink on handmade Bhutan paper, on April 21st, 2018 from 4-8pm at Substrate Gallery in Hollywood, California.
In addition to viewing Cioffi's originals on the gallery walls, attendees may also acquire a signed and numbered limited edition box set of Cioffi's half-issue published by SOVO//. [ Issue 1.5 ] includes fine art prints of the 21 paintings in the exhibition on heavyweight 11×14" uncoated Forest Stewardship Council Certified paper printed using waterless printing technology in a local, zero-waste printing facility. Each half-issue also includes a manifesto and a signed certificate of authentication from the artist. SOVO// is honored to present this original series of Cioffi work for the first time. The artist will be present at the show to answer any questions you may have and discuss his work further this Saturday.
Gianfranco Cioffi moved to Los Angeles from Italy in 2014, and has been exhibiting his work throughout Europe and California since 2009. While knowledgeable about artistic styles and techniques from a variety of cultures, Cioffi manages to stay present and relatable. Perhaps it's his spontaneous attraction to found objects which often find new life as art tools or materials. Cioffi has made a name for himself by creating intentional work which deftly captures the dualities of everyday life. Some of his recent exhibitions include Un Seul Grain De Riz (2017), Galerie Métanoïa, Paris; Parameter III (2017), Art Share L.A., Los Angeles; Biotic (2017), H Galley + Studios, Ventura; Intentions (2017), Gloria Delson Contemporary Arts, Los Angeles; Estremo Presente (2013), Museo Ettore Guatelli, Ozzano Taro, Italy. He has been featured in Osso Magazine; Get Inspired Magazine; Tribe Magazine among others.
⸻
Farida Amar, Creative Producer
Gianfranco Cioffi, Featured Artist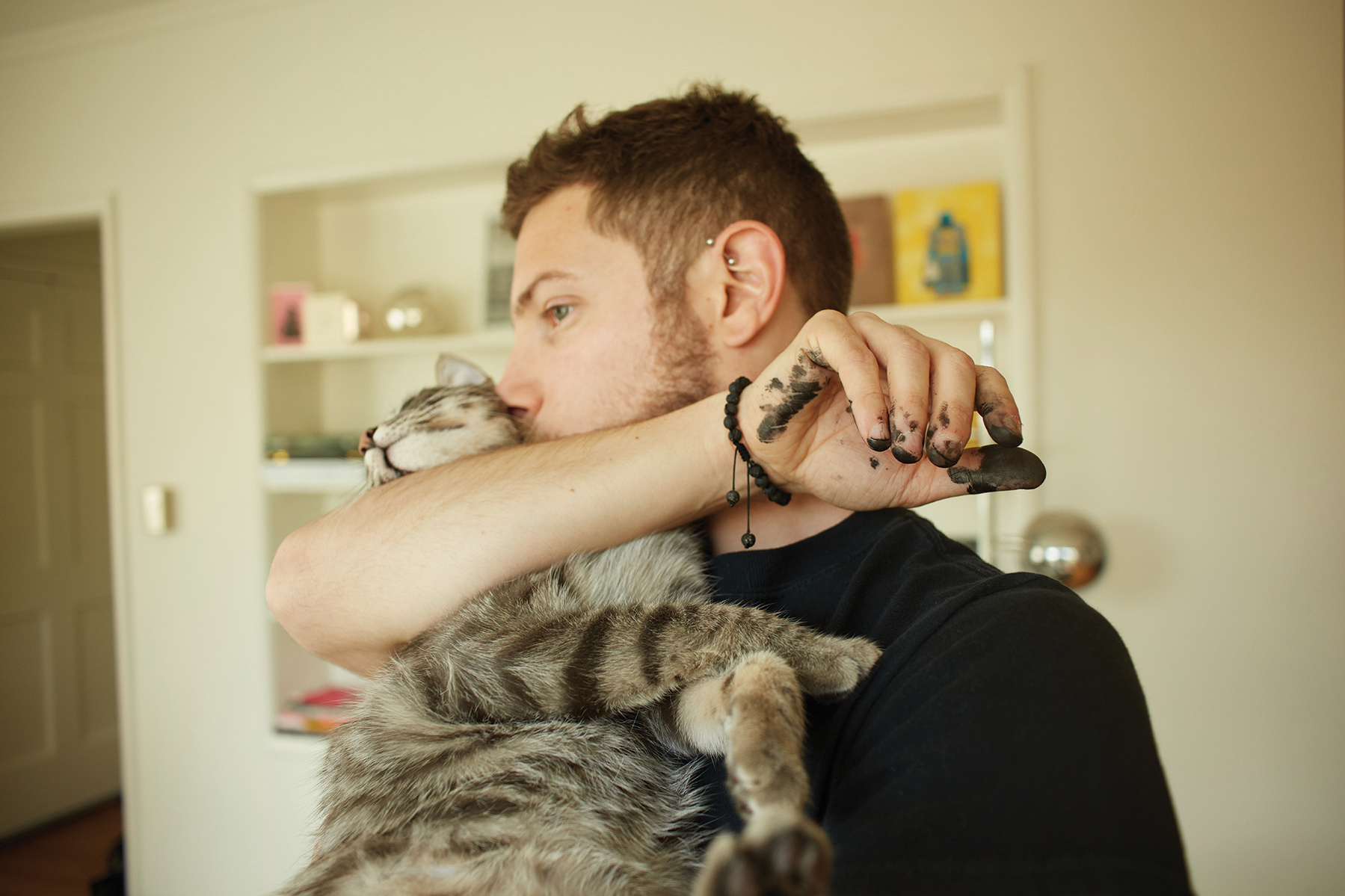 Farida: So, tell me about this show on the 21st.
Gianfranco: The show?
Farida: Yeah
Gianfranco: So… it's really part of one of my ongoing series that is called Gordian Knot and it's basically a research of our inner knot and in a way we try to solve this knot… cut this knot. And this series is composed of 21 pieces that are about 12×17″ on handmade Bhutan paper. And the paper was a big part of the selection because initially my thought was to use Japanese handmade paper, but the guy passed away so it wasn't possible. And I had to substitute this choice with another paper that actually was a better fit for this show because it was smaller, the texture was more intricate and it was just perfect.
This show has a deep meaning for me because the paintings were made in two different sessions. And you can really tell from how they look that they are from different phases of my life; I was going through something really personal and really different. So they are the perfect representation of the moment, like I try to do all the time with all my paintings. I try to capture and crystalize the moment and that's basically the philosophy behind my art: try to be completely honest. Sometimes it's really difficult to accept where you are and to be totally aware that we have no control about what's going to happen. Being that honest could be really painful, but at the end of the day you have a body of work that represents you honestly. And in my opinion, it's fundamental for an artist or a person – whatever is your interaction with the world – if you're not honest you wear a sad mask that society gives you and you are just a puppet, basically. You don't want to be a puppet. Life is too short.
This show is part of this beautiful project that is SOVO// Magazine. It is actually the half-issue. It is, I guess, a parallel project that the magazine has. They dedicate the half-issue entirely to an artist and I am grateful to the whole organization, to Farida and Allen and to whatever worked to make this happen. This is my first solo show here and it means a lot because basically I came here with no connections, no friends, no family. I came here by myself, so that means that… after all, if you work hard you can achieve something.
It wasn't easy. I've had a lot of struggles with the cultural gap. And, sometimes, you know, you have to make choices. You have to compromise something in order to achieve your goals. For me it was basically giving up my old life and there were tangible signs through my art. I was totally different. I used to make totally different stuff. It was more obscure, grotesque, dark. And now the narrative has completely switched. Now, I am looking for something else.
This research is deeper and difficult and it scares me a lot, but that's the beauty of it. That means that it's real. For example, I never know what my work is going to be. I literally never plan. I try to stay with the moment. It's kind of like a meditation. I try to ground myself in the moment and appreciate everything. Even the spots that are all over the place, they are part of the big picture. That comes from Zen philosophy, to accept all the parts of what we are and that we have basically no control.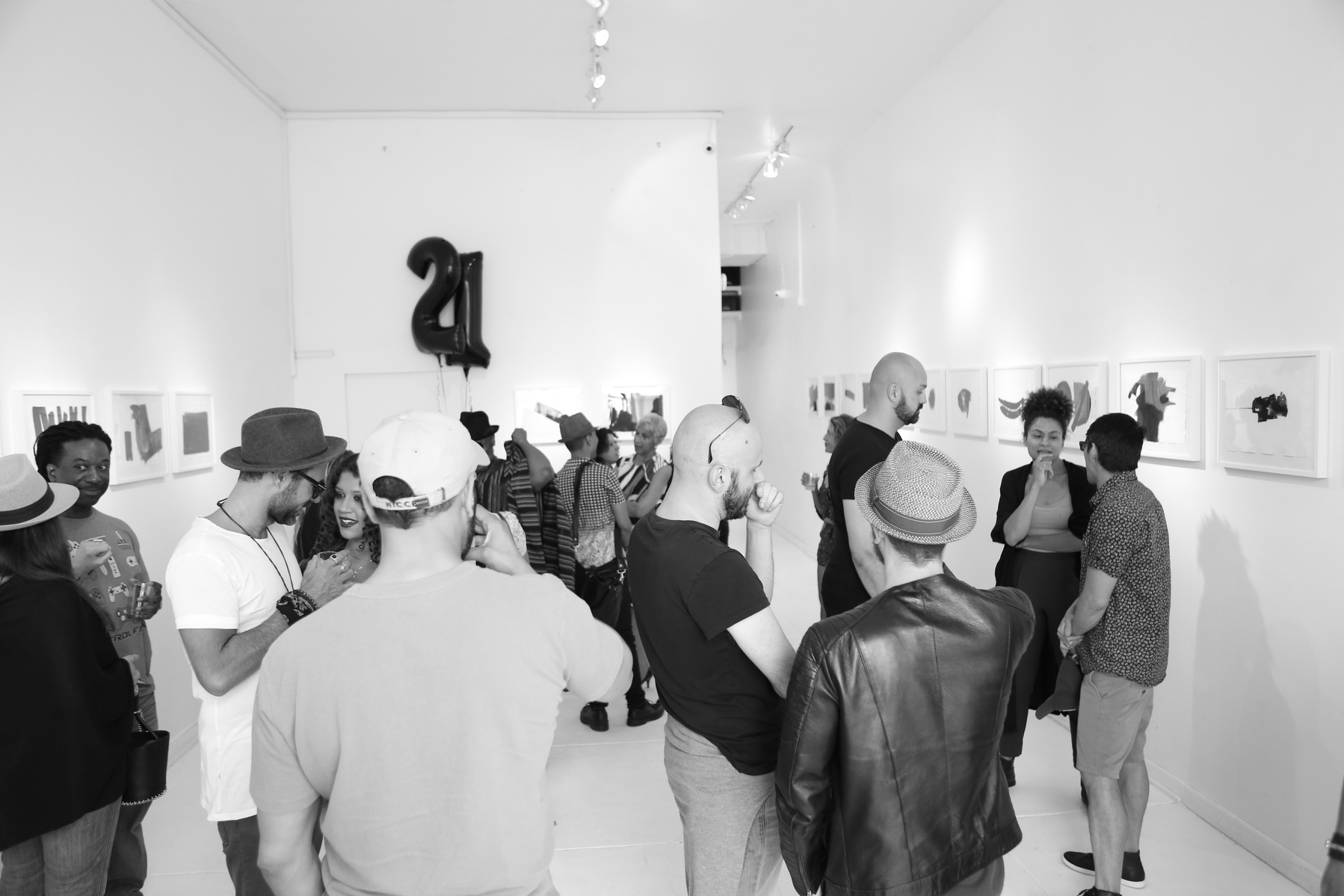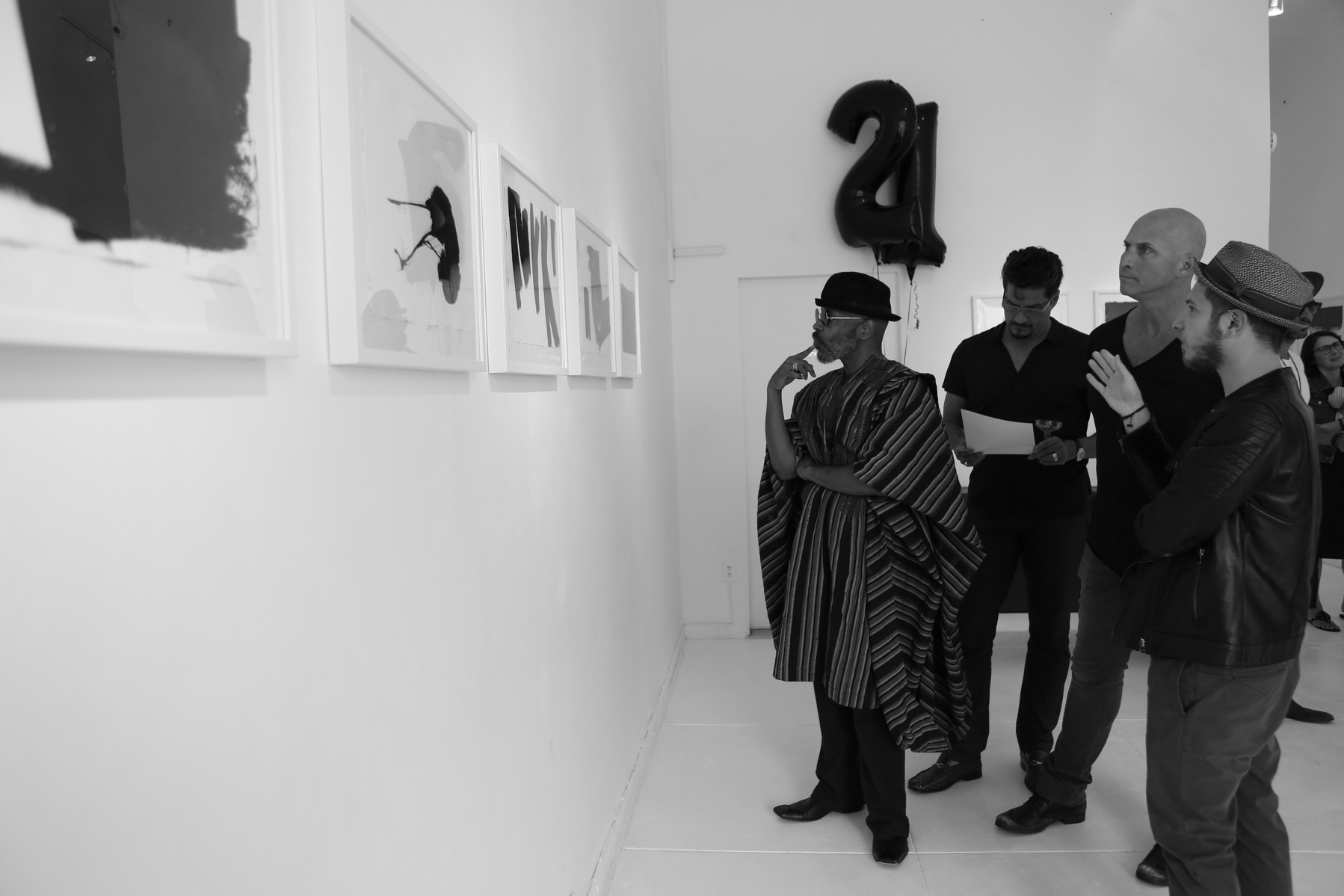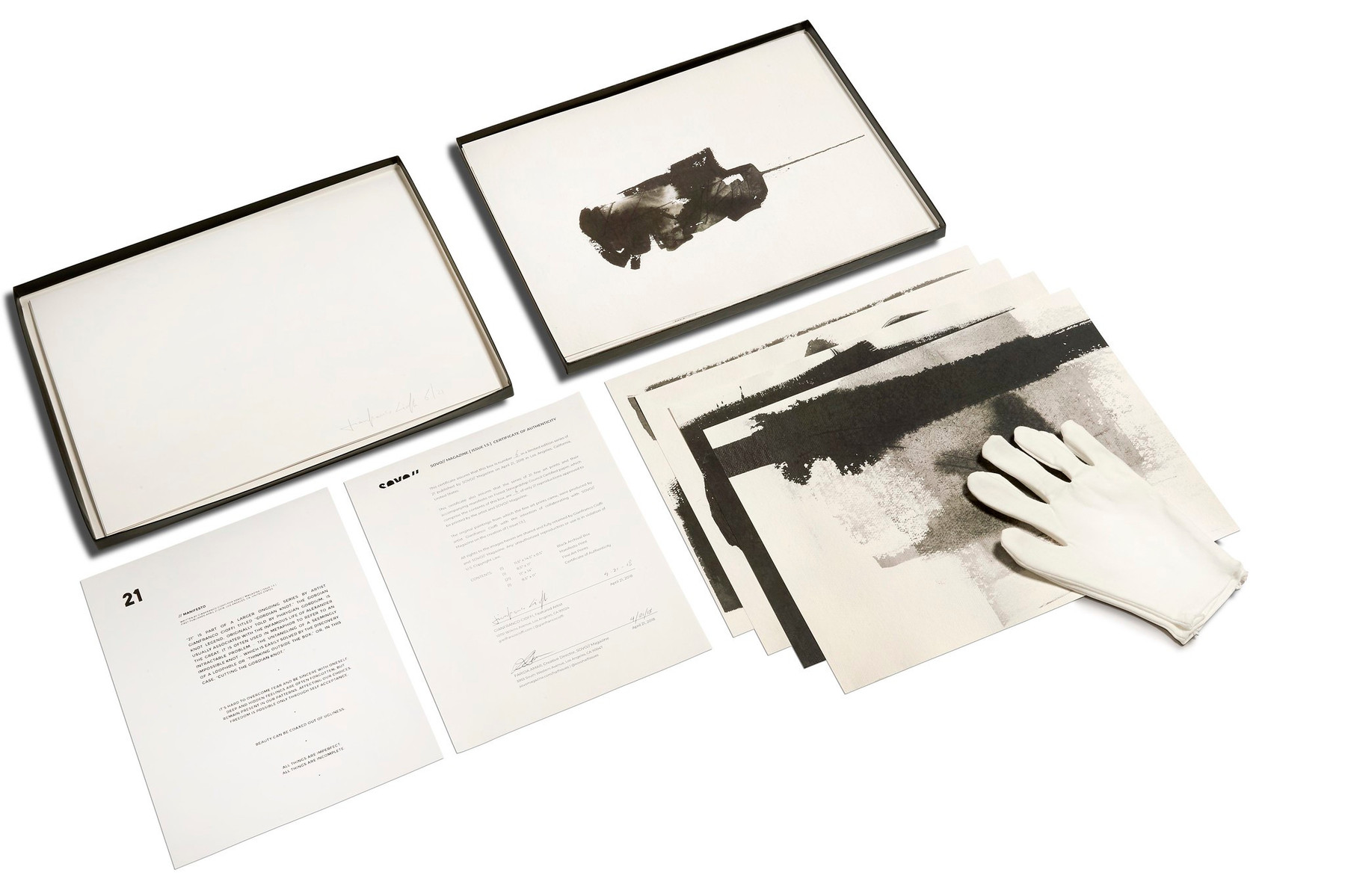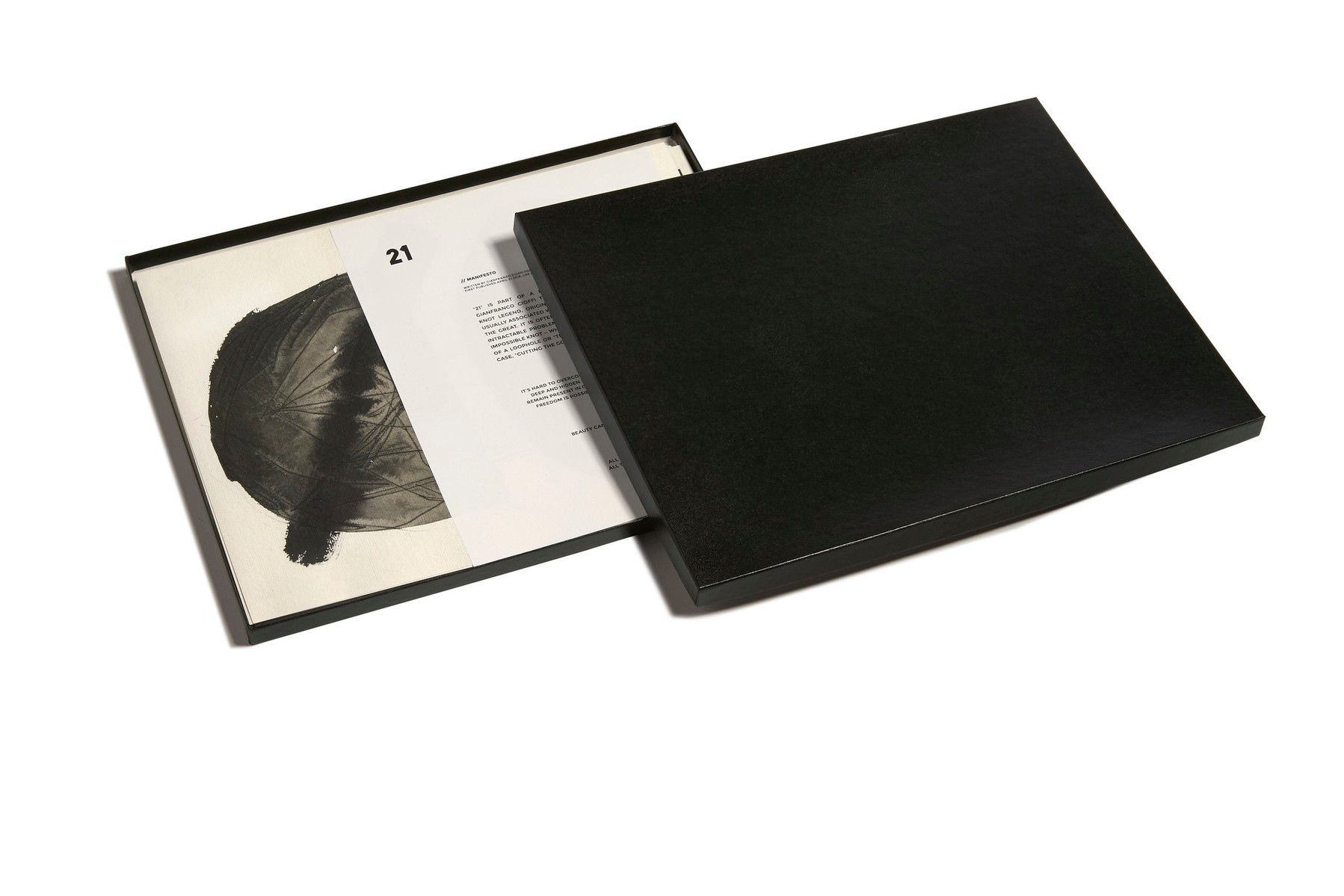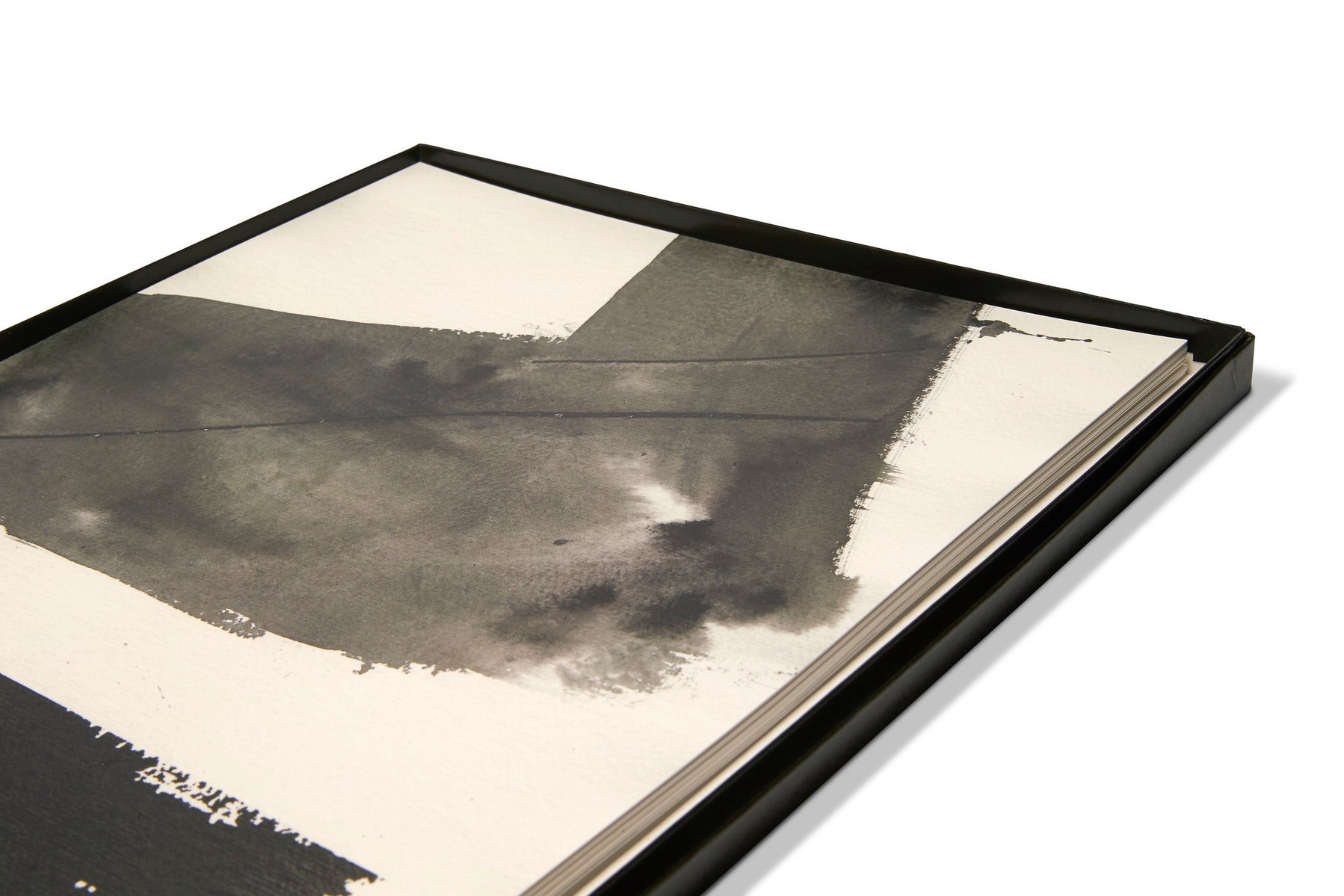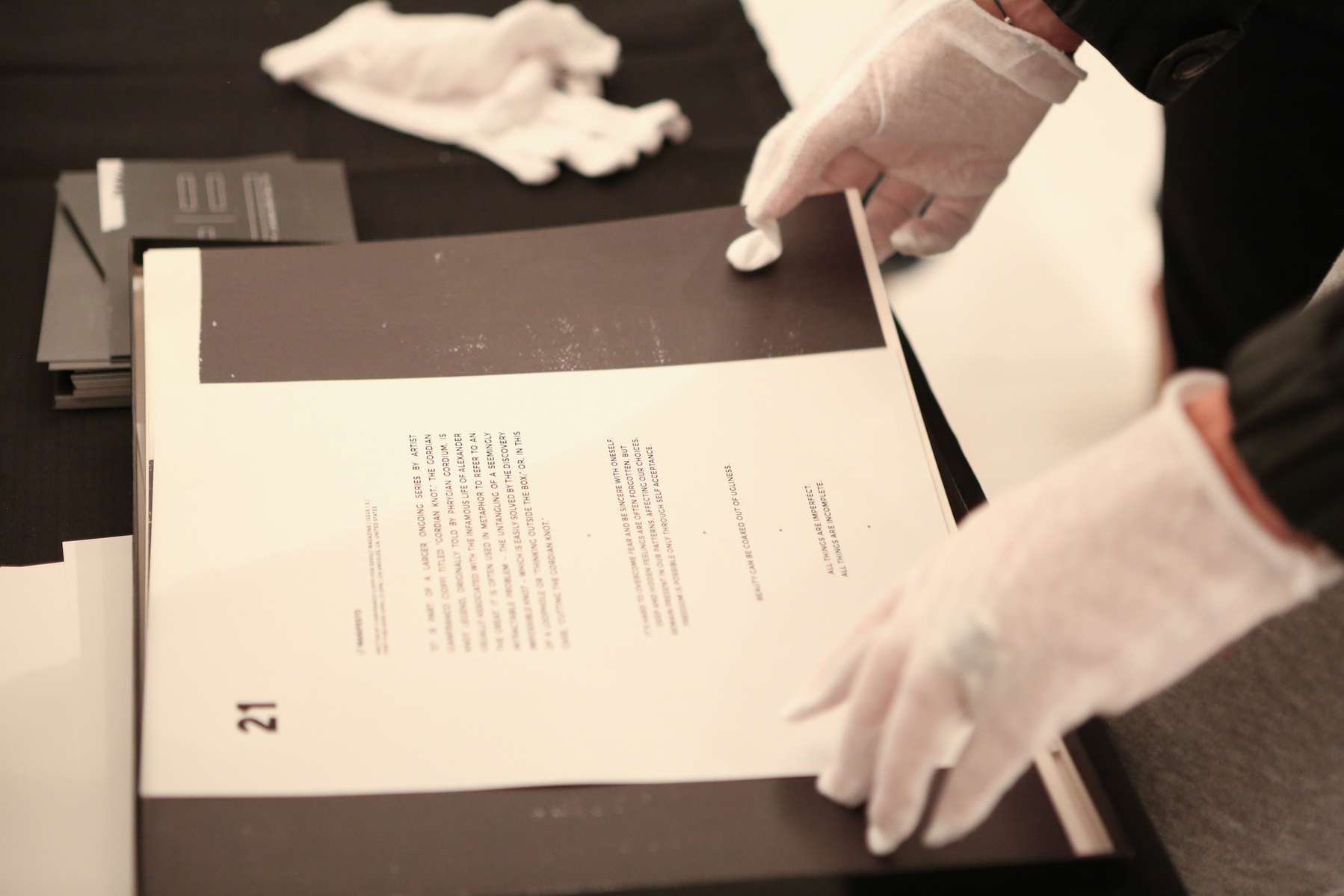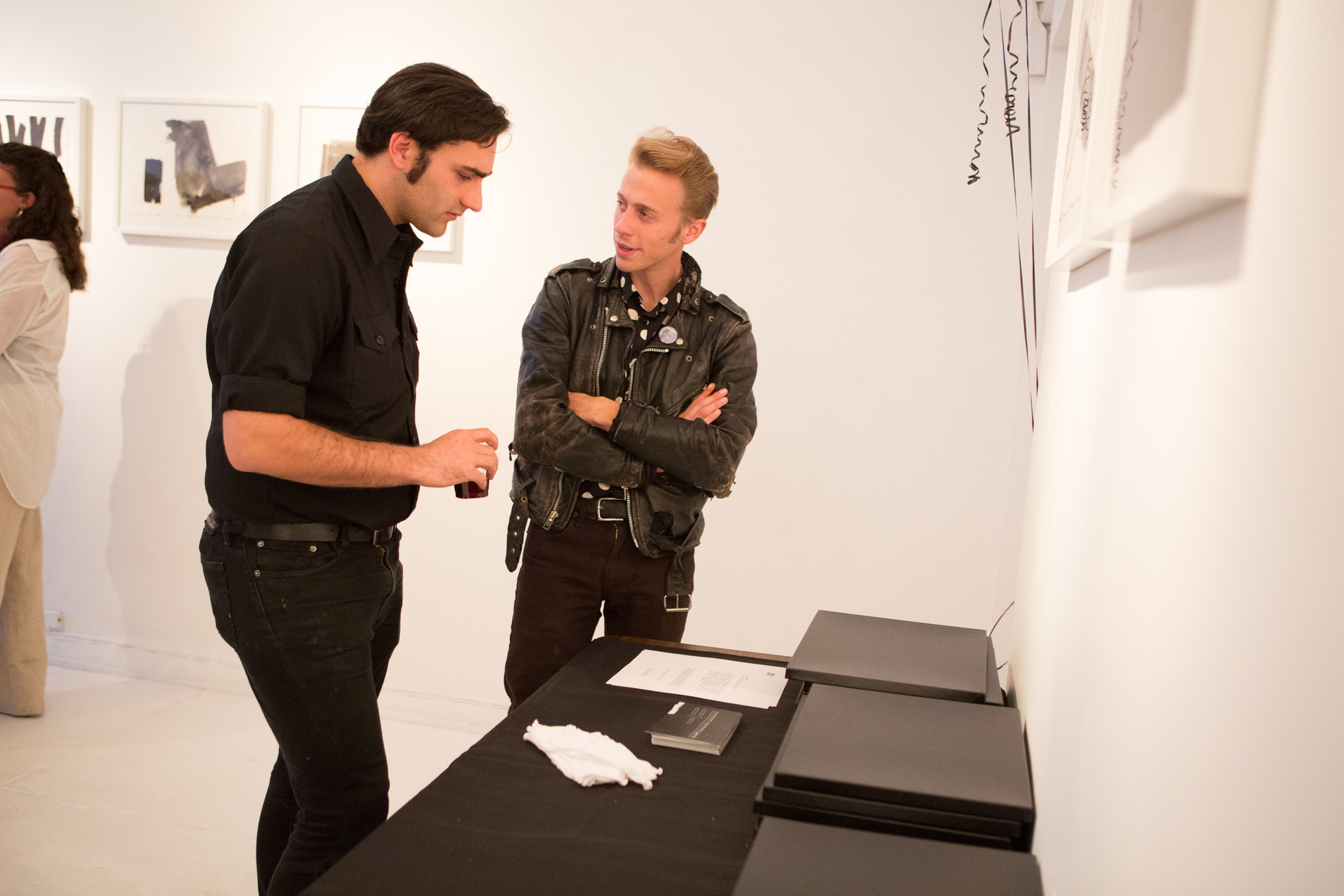 Art is a universal language, an aphorism that contemporary painter Gianfranco Cioffi lives by. Born and raised in Italy, Cioffi now lives and thrives in Los Angeles. The prolific artist has exhibited a series of gallery shows in both the U.S. and Europe, while also working as a respected illustrator and art director. Fluent in Italian and English, his intense yet ethereal artwork has wide appeal on both sides of the Atlantic, with a dreamy and compelling quality that goes beyond words.
Cioffi works with calligraphy pens and brushes, bamboo sticks, pastels, Sumi ink and watercolor. His fluid strokes seem to be created of air, cloud, and water, they are filled with motion and the innate joy of nature. He describes his work as capturing a "precious moment in time," and indeed there is the quality of timelessness in his pieces, which seem to exist outside of conventional form and understanding.
His works invite the viewer into a deep emotional space, which activates "hidden and sometimes forgotten memories." His images have a sinuous, soft quality that belies a sense of swirling emotion, or as Cioffi says "the turbulence inside of us."
Exhibiting in Paris, Italy, and here in California, Cioffi recently mounted local shows everywhere from Art Share LA in DTLA to ShockBoxx in Hermosa Beach, the Brand Library and Art Center in Glendale, and the FM Fine Art Gallery in Mid-City. Most recent was the April solo show created in conjunction with SOVO//Magazine at Substrate Gallery on Melrose Avenue, which Cioffi terms himself enormously grateful for the support to create. "That means a lot, my first solo show," he says.
Cioffi has created two primary bodies of work. The first was How We Look, which reveals the secret side of human beings and one's relationship with oneself. The series utilizes both self-portraits and portraits, inviting viewers into a visual space he hopes will activate discarded, hidden, or forgotten memories.
In his second series, The Gordian Knot, Cioffi works to reveal hidden feelings that affect choices and block a full acceptance of one's self. The name references the legend of Phrygian Gordium, and the metaphor of the knot is used to define an impossible problem that can be solved simply by thinking outside the box of convention and self-perpetuating patterns.
Works from his large-scale Gordian Knot project were culled by the artist for his exhibition for SOVO//, 21. The selection of 21 pieces involved a rigorous effort by the artist in planning the exhibition. "The number 21 is a powerful cabalistic number, a magical number," he attests. The show was even held on the 21st of April. Cioffi created the works with Sumi ink on handmade 12"x17" Bhutan paper.
The motion-filled works are a true dance of light and shadow, simple and rigorously profound. To some extent, they remind the viewer of visual Haiku – according to Cioffi, that perception is not incorrect.
"Lately I've been reading a lot about Wabi-sabi philosophy, and it is fascinating how deep it can go," he explains.
For the uninitiated, Wabi-sabi is an ancient philosophy with roots in Zen Buddhist traditions such as tea ceremonies. Such ceremonies feature unique, treasured, and handmade bowls, which are often shaped irregularly with uneven glazes and cracks. Wabi-sabi focuses on an acceptance of the transience of beauty and the imperfection of life itself, reflected in the irregularity of the bowls. The Wabi-sabi aesthetic often depicts things that are beautiful, yet imperfect, incomplete, and impermanent. Many of Cioffi's works strive to incorporate a similarly ethereal sense of beauty.
Despite his adherence to the values of Wabi-sabi, with its graceful retreat from the confines of permanence, when asked about what work he's created that he finds most memorable, Cioffi references a self-portrait from his How We Look series. "It is a large size on a handmade Japanese paper with Sumi ink. The drawing, the balance of black and white, the composition, everything is natural and harmonious. But what makes it special is the paper; it was my first time using such a high-quality paper. The fact that the man who used to produce the paper passed away a couple of years ago and no one else in Japan is able to reproduce such quality, gives an extra value to the painting and an aura of iconic importance for me," Cioffi states.
As an artist, Cioffi says his overriding message is "related to the dualism that every human being has to face, the ongoing fight between darkness and light, and analyzing themes like the acceptance of the inevitable."
Cioffi then and now tries to open new scenes with his art, and create new worlds. Many worlds are within the viewer rather than external landscapes. "Everything that happens in my work is not casual, it has a purpose. Every spot, every detail speaks to the turbulence inside of us."
His Untitled #1 is a poignant example of such turbulence. The sweeping image is both wavering and bold, carried by the winds of emotion. The piece could be a dancer in mid-leap, or a flag flying in the wind. The broad brush-strokes of The Journey, from his Gordian Knot series, paint another example. Here we find a tangle of roads, a map of sorts, that leads into the heart and mind. From certain angles, the image looks like a dragon with talons, but from others it appears as a small, feeble creature inching along a branch, mirroring the duality we all wrestle with.
We all experience inner turbulence, but it's a different experience for each of us, which is one of the most magical things about Cioffi's work. Its elusive and elucidating meanings are open to the interpretation of the viewer, like a Rorschach test for the soul.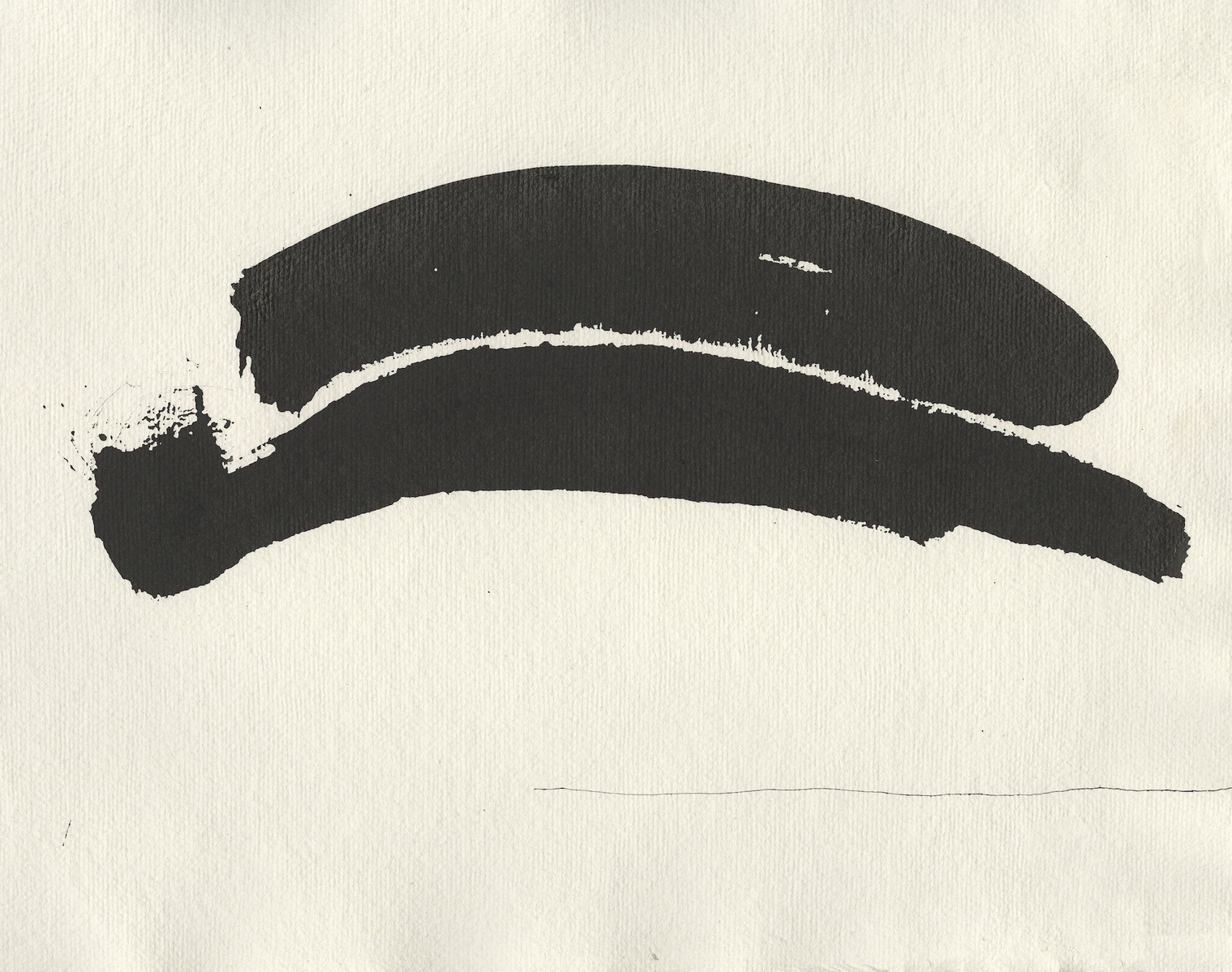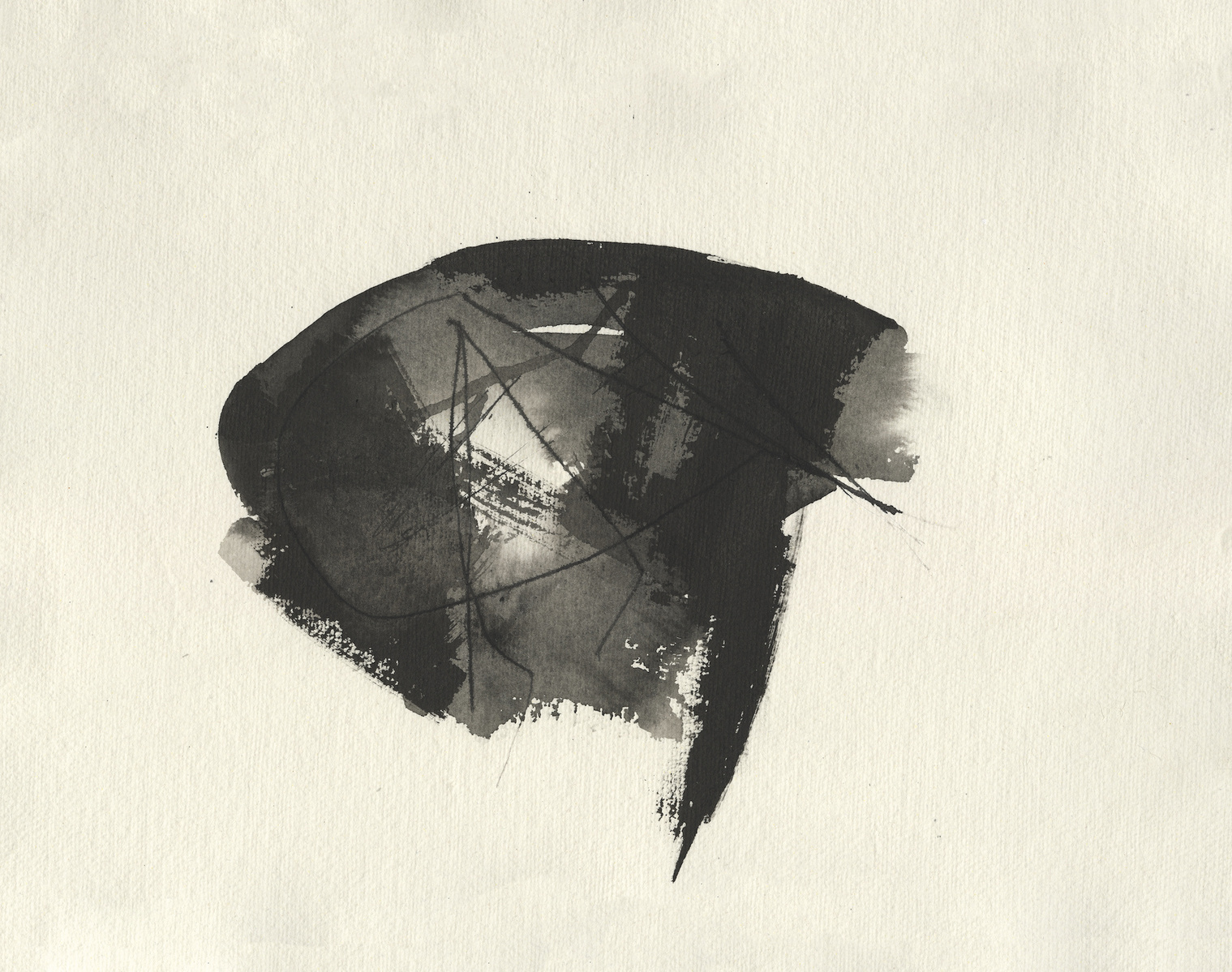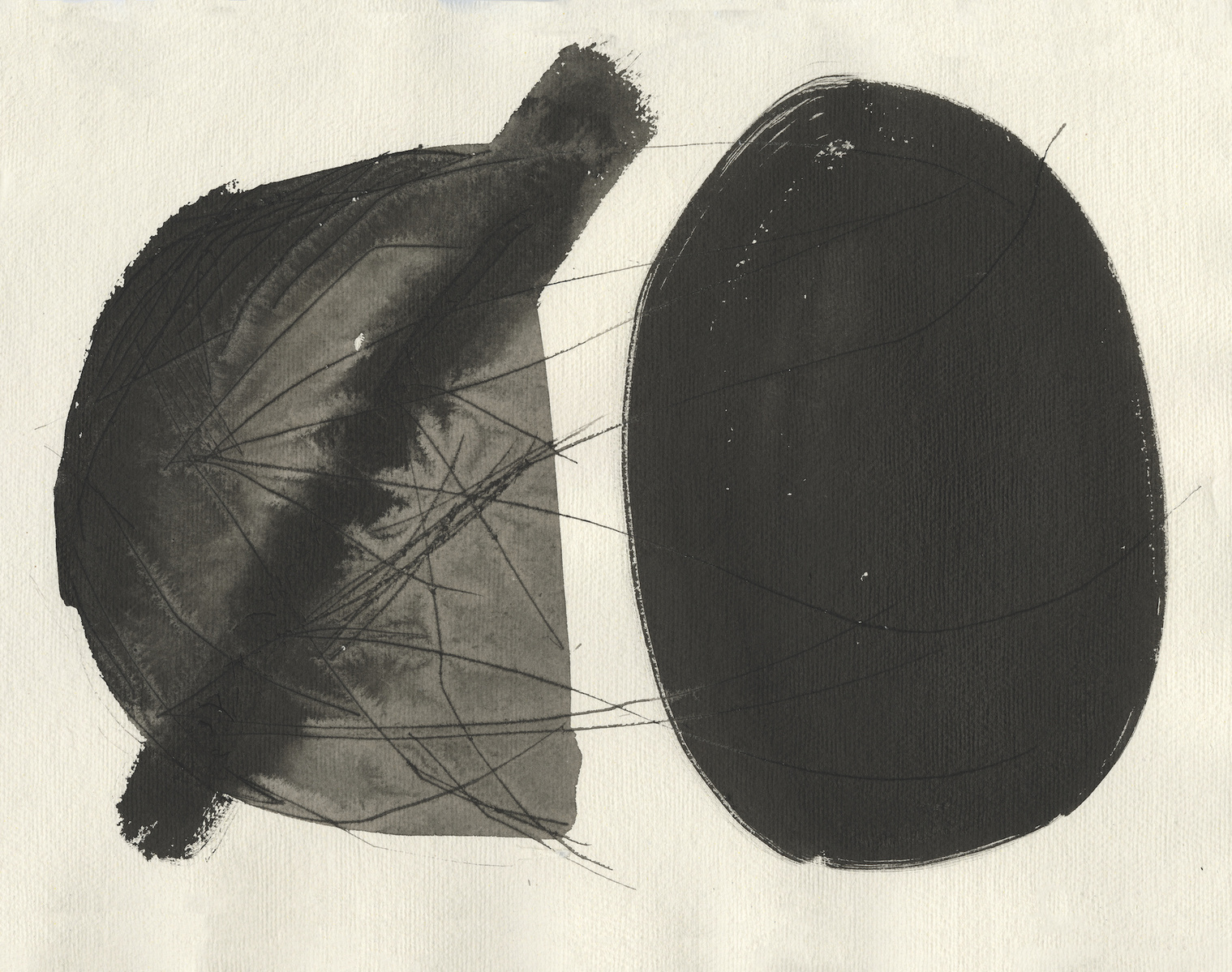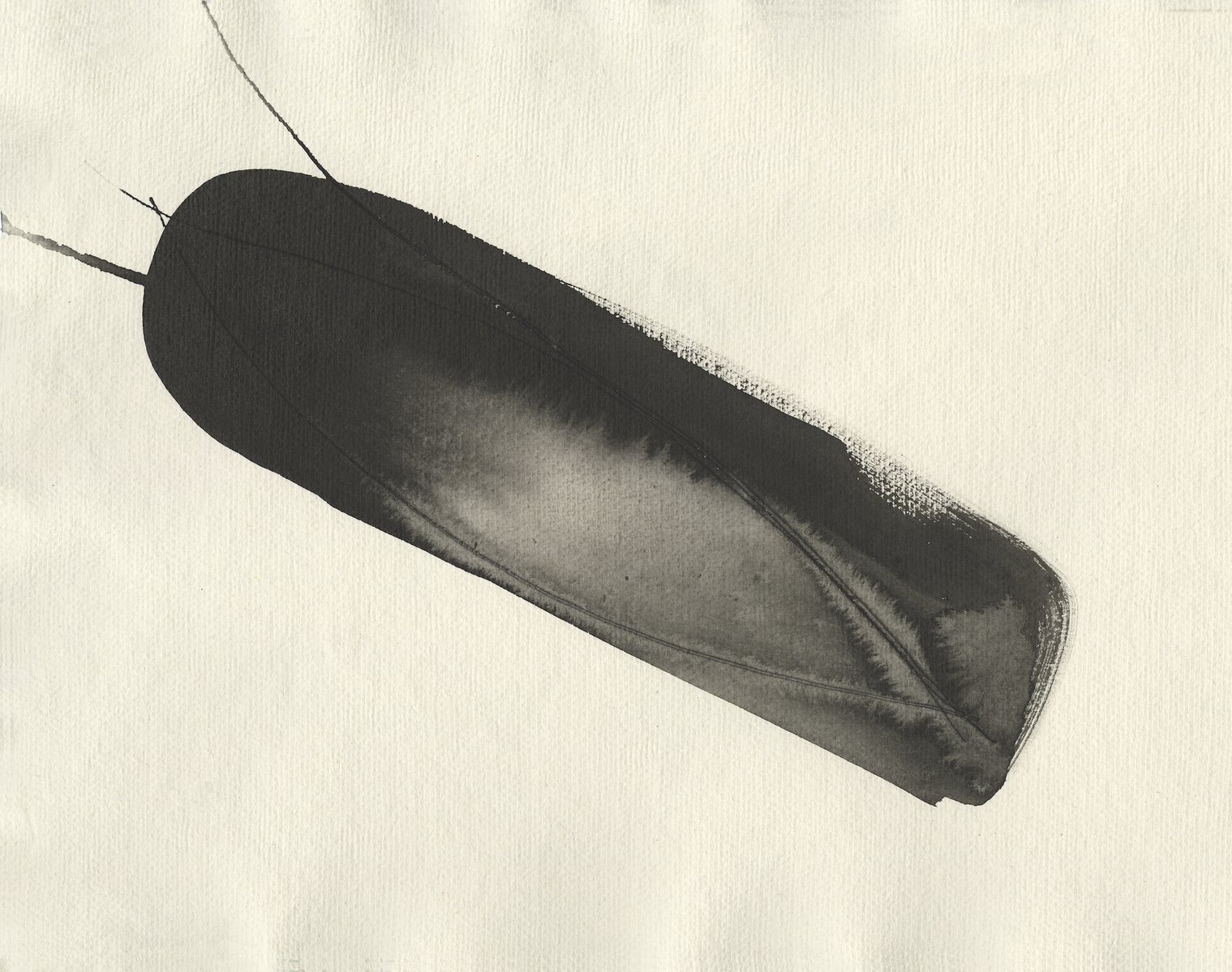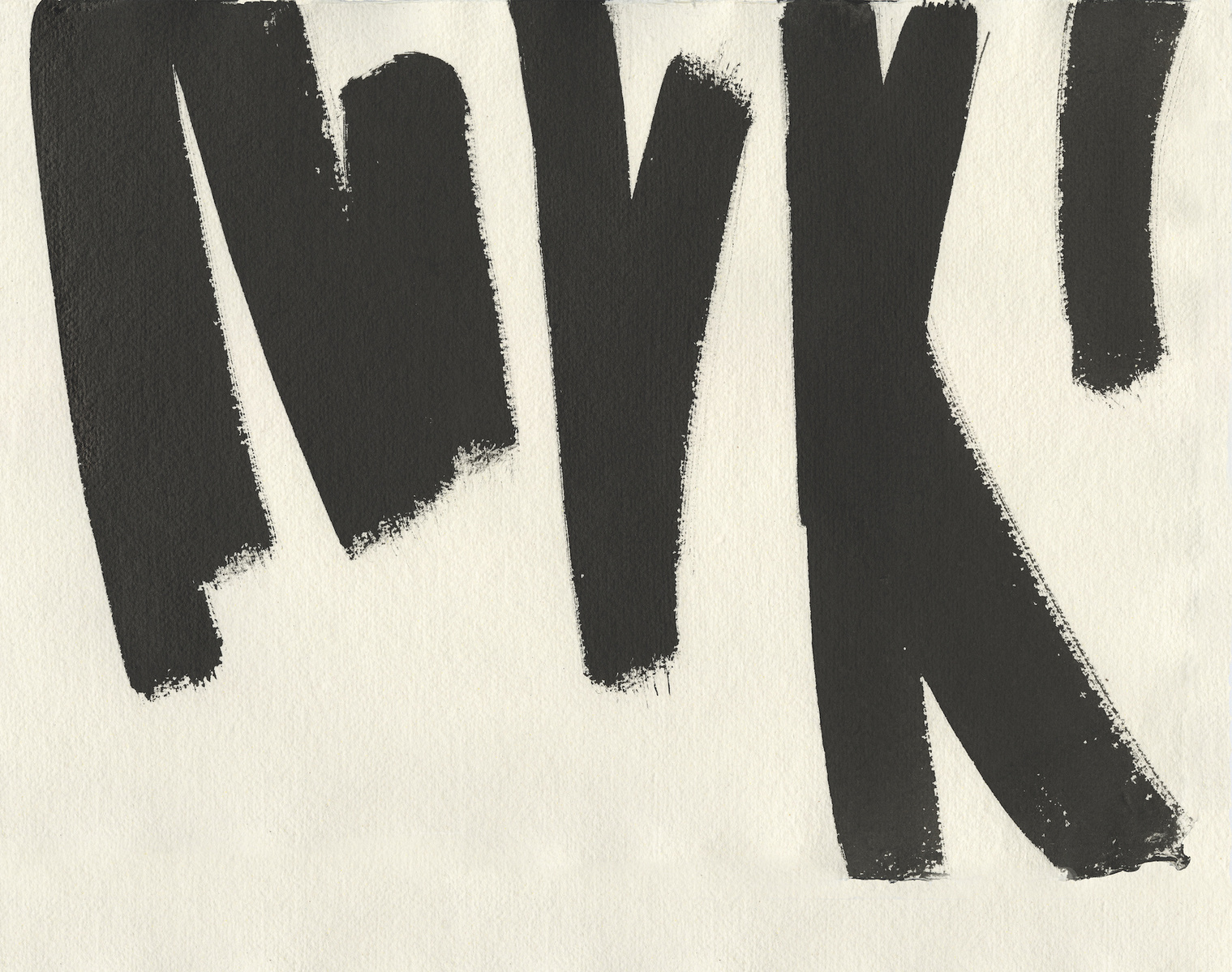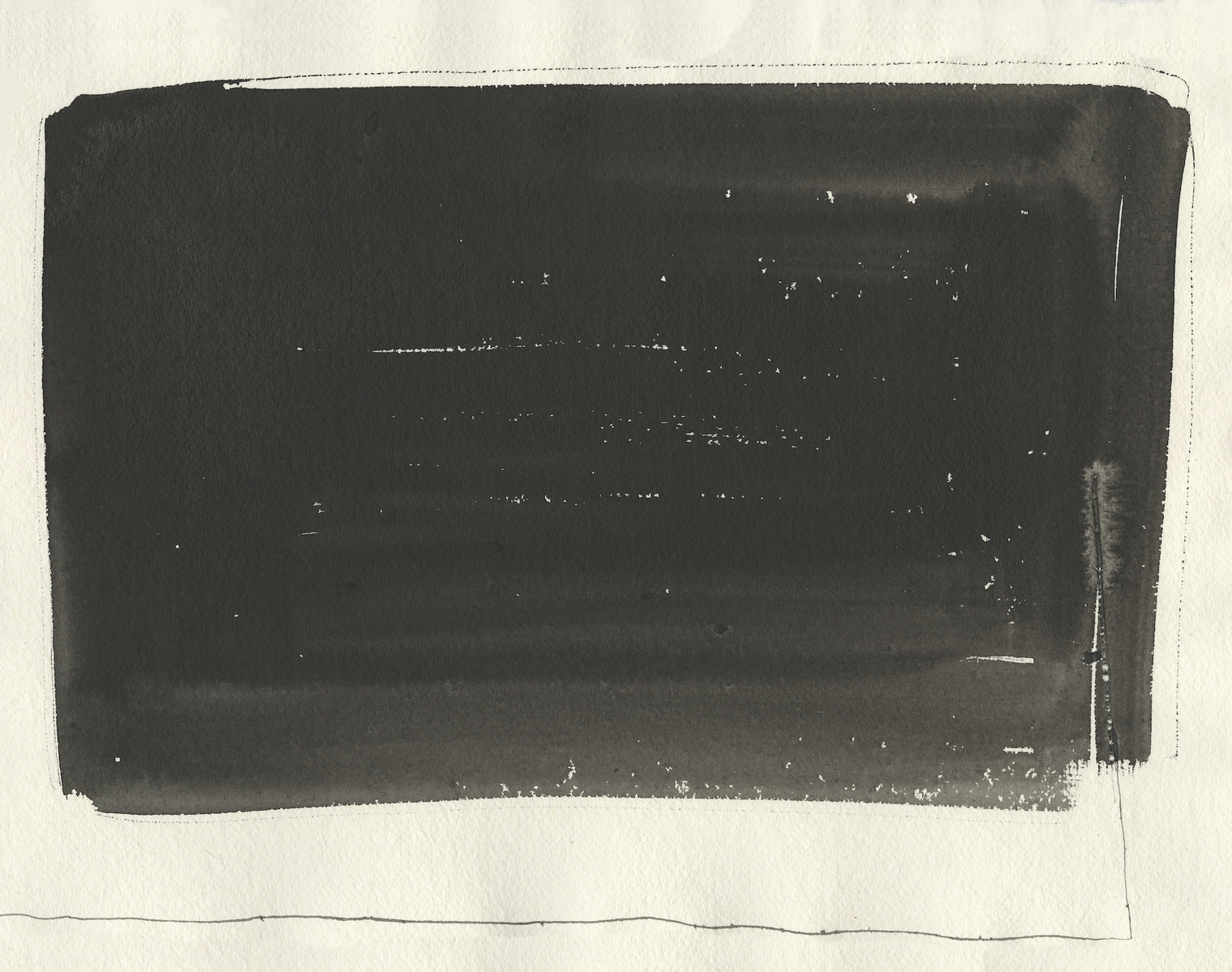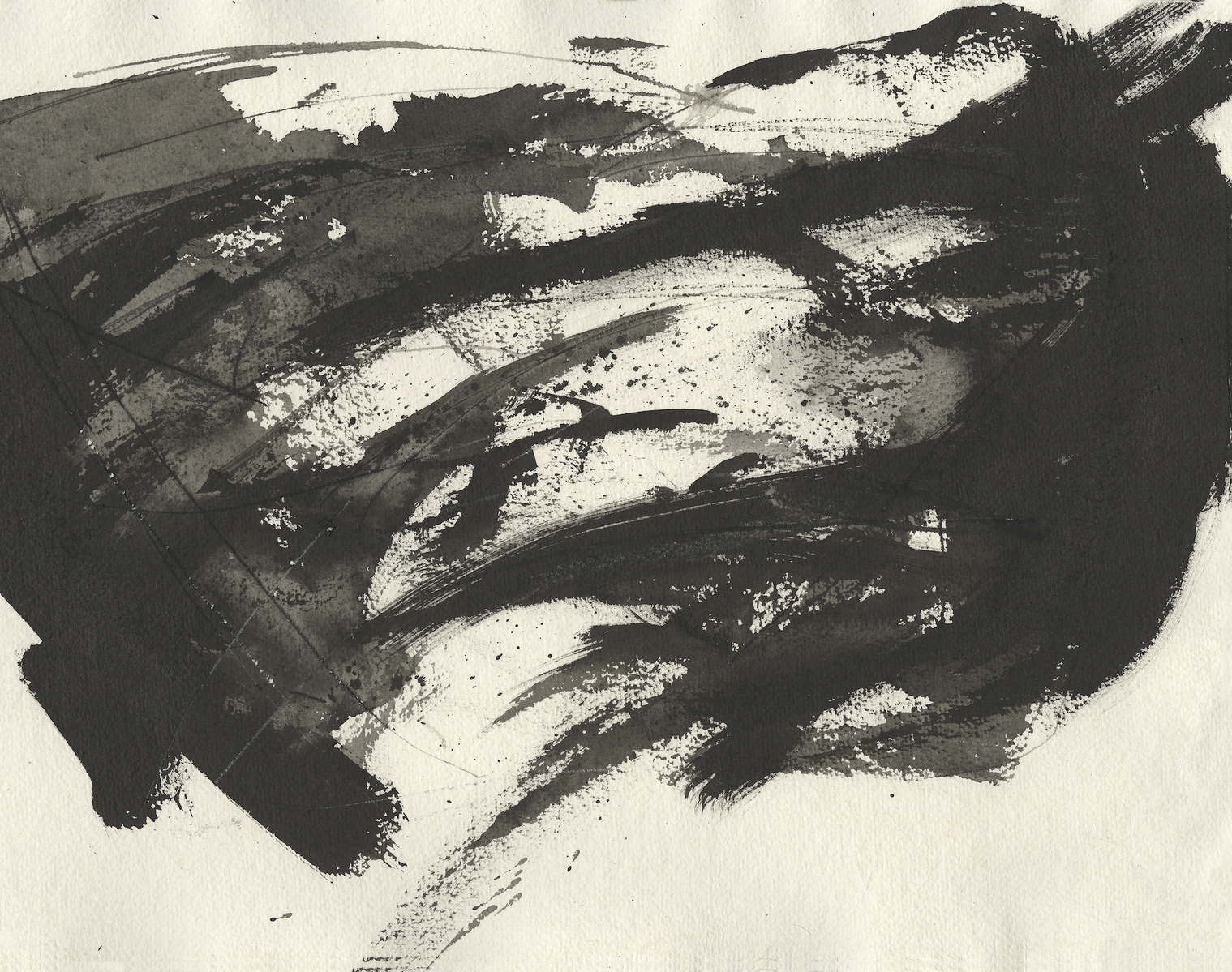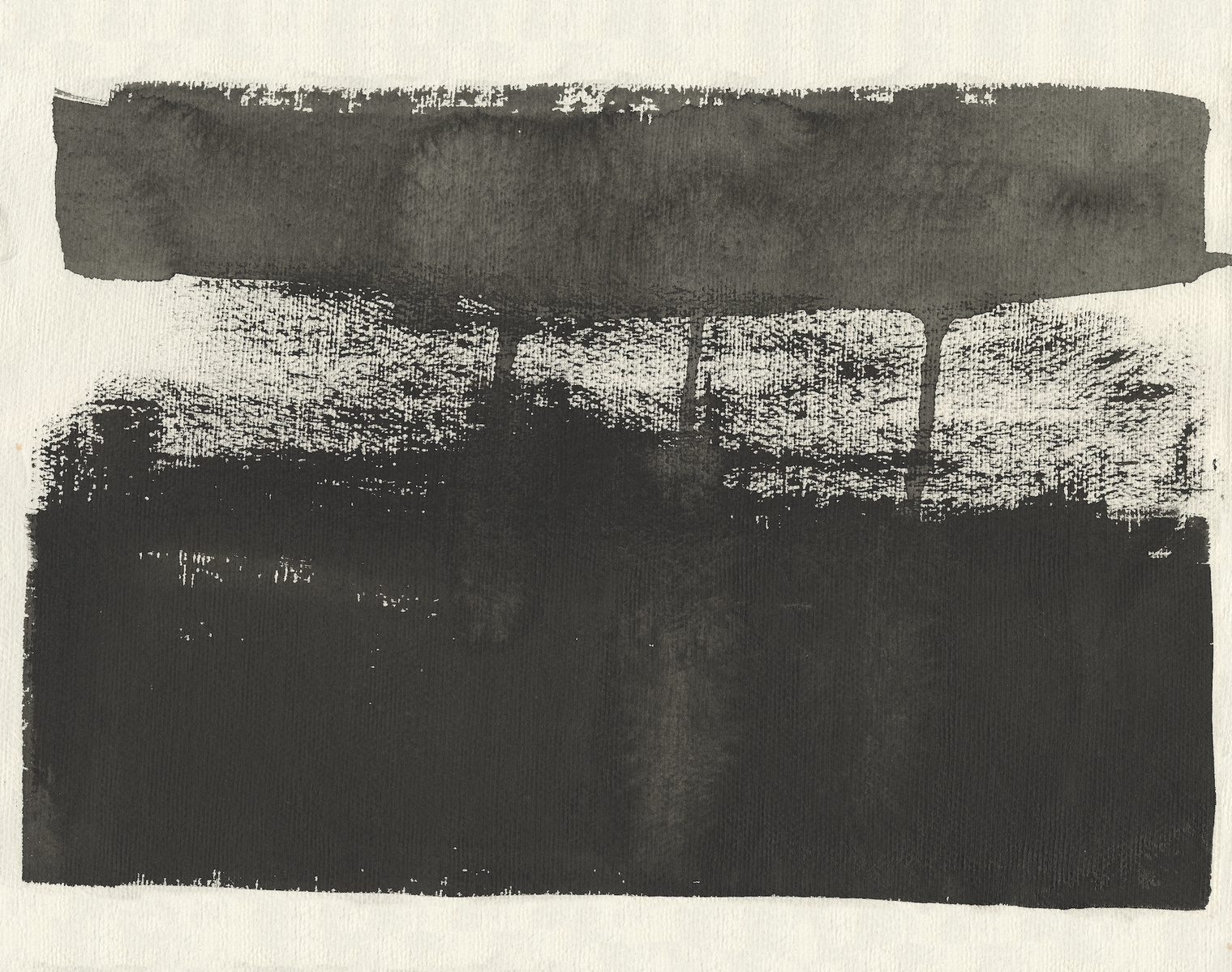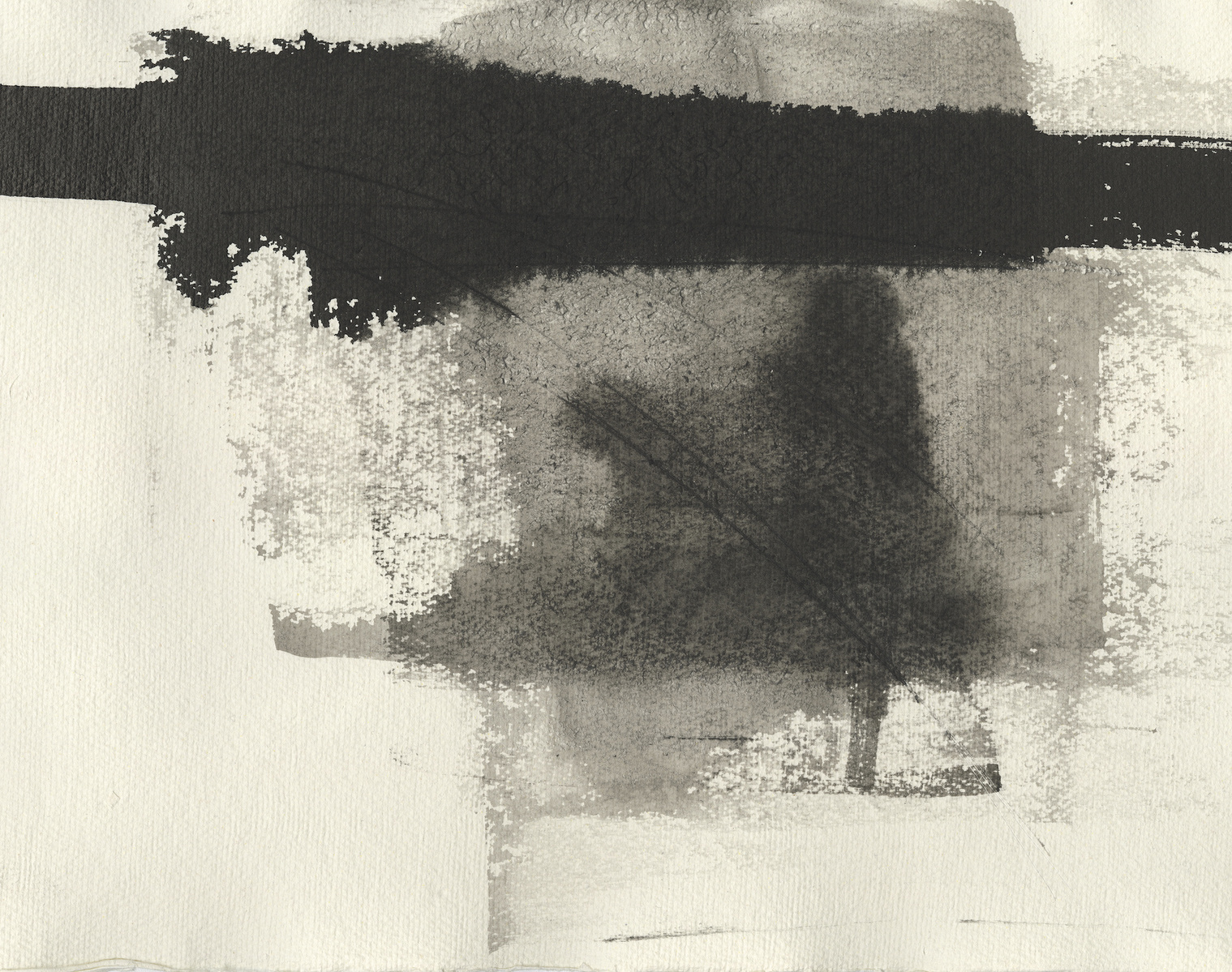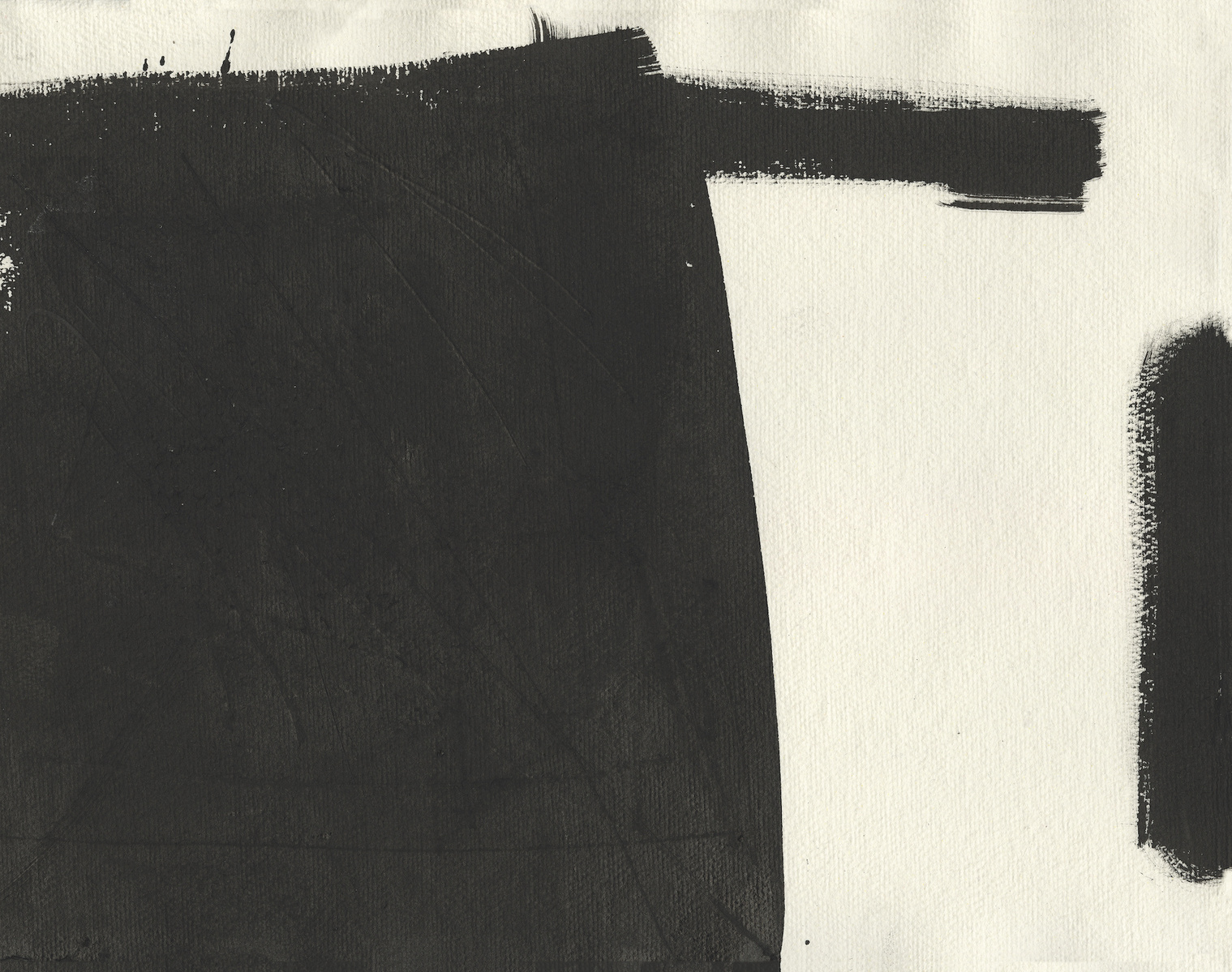 Beauty can be coaxed out of ugliness.
All things are imperfect.
All things are incomplete.