Forecast Journal
Format → biannual print publication
Print Specs → full color, 11×15 in., 125-180 pages
Location → los angeles, california
Dates → june 2021 - present
Current Status → open
Forecast Journal is a bi-annual, tangible, limited-edition experience. This hybrid literary, art, and academic journal is uniquely wide-ranging in genre, offering readers unexpected research approaches and experimental perspectives. Visual artists develop original ideas directly responding to each piece of writing; these ideas are then produced with Forecast, an art collective utilizing exclusively analogue formats—still and motion film, writing, fine art, and performance. Our mission is to support artists with continuous, unlimited resources and approaches to idea-making, in order to augur collaborative, wise futures that inspire a global public.
forecastjournal.us | @forecastjournal
—
Editorial Staff:
Farida Amar, Publisher + Creative Director
Kythe Heller, Editor-in-Chief
Lauren Lakin, Creative Producer
Emily Colvin, Audience Editor
Kylin Moore, Digital Editor
Sophia Ogden, Podcast Editor
Devon Harris, Assistant Editor
K Roberts, Assistant Editor
John Tottenham, Copy Editor
Contributing Artists: [writing] Abigail Tate, Andrew McCarron, Anya Johnson, Anya Yermakova, Autumn Palen, Brooke Williams, Caroline Huntley Coxe, Caylin Ellowitz, Celene Ibrahim, Char Miller, Cornel West, Daniel Smith, Elyse Cizek, Fanny Howe, Ganavya Doraiswamy, Hanyong Jeong, Jackie Wang, Jelena Markovic, Jessica Prasertsri, Jessica Scicchitano, Katy Gurin, Kio Griffith, Kirsten Pegeron, Kristin Prevallet, Kythe Heller, Li Pallas, Lina Feuerstein, Lynsey Saunders, Miriam Simun, M.ouse, Nadia Colburn, Nicky Loomis, Pete Helvey, Peter Valente, Prathima Muniyappa, Rodrigo Caceres, Ross Farrar, Sean Akerman, Shireen Hamza, Terry Tempest Williams, Tsering Say, Vanessa de Horsey [photography] Adam Patrick Daniel Hutsell, Aliana mt, Ashley Guo, Ciara Zoe, Jack X Proctor, Jeff Mark Leavitt, Jenica Heintzelman, Kemal Çilengir, Lauren Lakin, Lorrin Brubaker, Maranda Stelly, Mariam Magsi, Meka Tome, Marizó Siller, Nedda Afsari, Niko Sonnberger, Raquel Natalicchio, Riley Libansky, Samantha Kelly, Sarah London, Tyler Hubby, Viktoria Raykova, Willa Cutolo [fine art] Damian Gomes, Gianfranco Cioffi, Ines Katamso, Ivan Moscovich, Morgan Sorensen, Shelley Loheed, Vickie Vainionpää [performance] Ace Ramirez, Aditi Kumar, Andre Mershad, Alexandria Boddie, Amanda McLeod, Andrel Mcpherson, Annaleta Ehler, Aryana Polat, Autumn Palen, Bobby Krzywinski, Briana Autran, Bow and Dagger, Britney Campbell, Camila Arana, Camilo Rafael Caridad Pineda, Catrin Walsh, Charissa Kroeger, Claire Apana, Da'money Trevino, Dani Burd, Daviel Shy, Daron Bell, Elise Heck, Elyse Cizek, Emily Colvin, Evren Velasquez, Foreste Jean Feely, Genna Moroni, Gypsy Rose, Haymich Olivier, Huntrezz Janos, Jessie Lee Thorne, Jessy Easton, Joe Davis, Jordan Thomas, Jumanah Shaheen, Kate Schofield, Kin Cassini, Kyla Carter, Lee Busch, Liv Mai, Mads Paige, Marianna Varviani, Mark Morante, Mark Steger, Mars Rackliffe, Matthew Glenn, Maya Peterson, Mayira Batista, Melanie Au-Yeung, Michael Ursu, Naomi Van Brundt, Nikki Battestilli, Niko Sonnberger, Oliver Greene-Cramer, Olivia Johnson, Perry Rhodes, Ryanna Dunn, Sara D., Saira Kaur, Sam Sharman, Shauna Davis, Smokey Alexander, Smokey Emery, Tajzon James, Taylor Unwin, Tyler Law, Viktoria Raykova, Zed Dally [production] Adriana Aviles, Daniel Alcaraz, Jeremy Quant, Julie Johansen, Skylar V Smith
Occasionally, discreetly, a new word introduces itself into our cultural vocabulary. Not a new theory, which makes itself, so often, explicitly corrective—the process I mean to discuss is more covert, and the particular term under scrutiny is one much more likely used by its practitioners than by critics. The word in question𒂼𒄄 ama-gi, or 𒂼𒅈𒄄 ama-ar-gi, a Sumerian term that can be dated to at least 3,000 B.C.; it is the first known written reference to the concept of freedom. In its usage, it also conveys "manumission" and "the restoration of persons and property to their original state." The word originates from the noun ama "mother" and the present participle -gi "return, restore, put back": freedom literally means "returning to mother." Our original state of being.
Liberatory thinking, of course, is not new. And yet new approaches to the practice of freedom are still rare, and especially relevant now after three years of global pandemic and accelerating fascist ideologies. It is my belief that this collection of imaginative encounters with freedom can provide seeds for new and embodied philosophies of liberatory thought and practice. This issue of Forecast seeks to remain true to the diversity of experience in our practices of ama-gi and suggests a range of cultural transformations that address freedom as a state of mind, as a practice, as a human and more than human right, and as a site of critique and hope. It offers a capacious way to think about the world we share with each other and with other kinds of beings.
Issue 10 is unique in that it begins with subversive joy, the ability, as Cornel West describes, "to delight in one's own sense of humanity and folly and humor in the midst of this very serious struggle." For West, freedom begins in moral clarity, and it is this ability to "fall awake" that can be cultivated. I find, in these essays and poems, a sanity so profound as to be mysterious: they suggest that only by welcoming uncertainty and a commitment to something greater than the self can we respond adequately to the shattering and wonder that enfolds us. Some of us invoked ama-gi from monasteries and transcribed their dreams (Fanny Howe), while others picked the locks of imagination with prison abolitionist poetics (Jackie Wang). Often, the focus was boldly imaginative, for example undertaking a trans-humanist, underwater training program to advance beyond the human and become a cephalopod (Miriam Simun).
This human body, for all its susceptibility and vertigo, remains the primary instrument of all our knowing, and several essays investigate freedom in the ways we can know ourselves in the harrowing vulnerability of bodied existence. Anya Yermakova reflects on how a movement artist exists in non-binary logics during the first shocks of war in Ukraine, while Shireen Hamza investigates the connections between monsters, chronic pain, colonialism, and race. Kristin Prevallet practices trancepoetics and hypnotherapy to heal herself and others from trauma, and Kythe Heller invents a ritual poetics that brings forward an early gnostic revelation text through embodied experiences of gender reassignment and ecological crisis.
A selection of essays and poems offers diverse personal approaches to freedom, such as an experiment in collective autobiography (Andrew McCarron and Sean Akerman), a poem asking what it would be like not to have a body (Autumn Palen), and an investigation of freedom in radical music and literature (Peter Valente). Often, the focus is close to home, whether in the freedom found in converting to Islam (Celene Ibrahim), healing from childhood trauma (Nadia Colburn) or a mother's death (Lina Feuerstein). We round out the issue with a poem that considers the end of a personal world (Hanyong Jeong) and the essay (Ganavya Doraiswamy) which introduced me to the term ama-gi and was written from the sky. During a series of thirty-six airplane trips, this final essay zooms out to 36,000 ft. to reflect on multi-dimensional meanings of freedom in the biosphere we inhabit together.
As Forecast continues to add exploratory media channels, the opportunity for mixed-genre (and mixed media) has grown for the artists involved. We are thrilled and grateful to present our first issue devoted to the theme of freedom; we hope it inspires and challenges you to create the future you seek. — Kythe Heller, Editor-in-Chief
Swiftly, inexorably, members of our species are beginning to become aware of a world that exists beyond the confines of our specific cultures and lives — beginning to recognize, that is, that our own personal, social, and political crises reflect a growing crisis in the biological matrix of life on the planet. The ecological crisis may be the result of a recent and collective perceptual disorder in our species, a unique form of myopia which we now perceive and must race to delay and correct. For many who have regained a genuine depth perception — recognizing our own embodiment as entirely internal to, and thus wholly dependent upon, the vaster body of the Earth — the only possible course of action is to begin planning and working on behalf of the ecological world which we now discern.
And yet ecological thinking is still having trouble taking root in the human world, despite these past two years of global pandemic and accelerating ecological disasters — it is still viewed by most as just another ideology. Meanwhile, ecological science remains a highly specialized and inaccessible discipline circumscribed within a mostly mechanistic biology. It is my belief that this collection of imaginative approaches to Sustainability can provide seeds for new and radical philosophies of ecological awareness. This issue of Forecast seeks to remain true to the diversity of experience in our biosphere and suggest a range of cultural transformations that withstand the test of time, remain relevant, solve problems, create legacy, and offer a capacious way to think about the world we share with other kinds of beings.
Issue 9 is unique in that it begins with the stories places tell about themselves, through their human interlocutors. Some of us listened to the speech of stones, as renowned writer Terry Tempest Williams did, in her beloved Castle Valley, Utah. Others performed eco-sexual marriages with the earth (Caroline Huntley Coxe) or drove through the western US on a road trip seen from the perspective of bison (Brooke Williams). Often, the focus was boldly imaginative, for example considering the stars from the Atacama desert in Chile and how indigenous cosmologies contribute to emerging discourse on space exploration, synthetic biology and extended intelligence (Prathima Muniyappa).
A selection of non-fiction reportage offers a deeper investigation into diverse topics, such as indigenous approaches to fire control in California (Char Miller), trans and BIPOC activist resources for mutual aid during the pandemic (Li Pallas), and how to die a green death and live a green life (Caylin Ellowitz), with a discussion of eco-funerary practice, adaptive reuse, and sustainable development. Often, the focus is close to home, whether in designing fashion that can be created from trash (Abigail Tate & Jessica Prasertsri), or analyzing the role of health care workers and their families during the COVID-19 crisis, as a form of secular religious sacrifice of the economically insecure (Tsering Say). In different ways, two writers offer philosophical essays that consider alternative cosmologies and cultural ontologies that contribute to emerging discourse on indigenous futurism and sacred technologies (Rodrigo Cáceres). We round out the issue with an interview which re-imagines the colonialist implications of the white cube as an art space (Jeff Mark Leavitt & Caroline Huntley Coxe) and a poem that zooms out to consider the geological time scales of the biosphere we inhabit together (Katy Gurin).
As Forecast continues to add exploratory media channels, the opportunity for mixed-genre (and mixed media) has grown for the artists involved. We are thrilled to present our first issue devoted to sustainability; we hope it inspires and challenges you to create the future you seek.
— Kythe Heller, Editor-in-Chief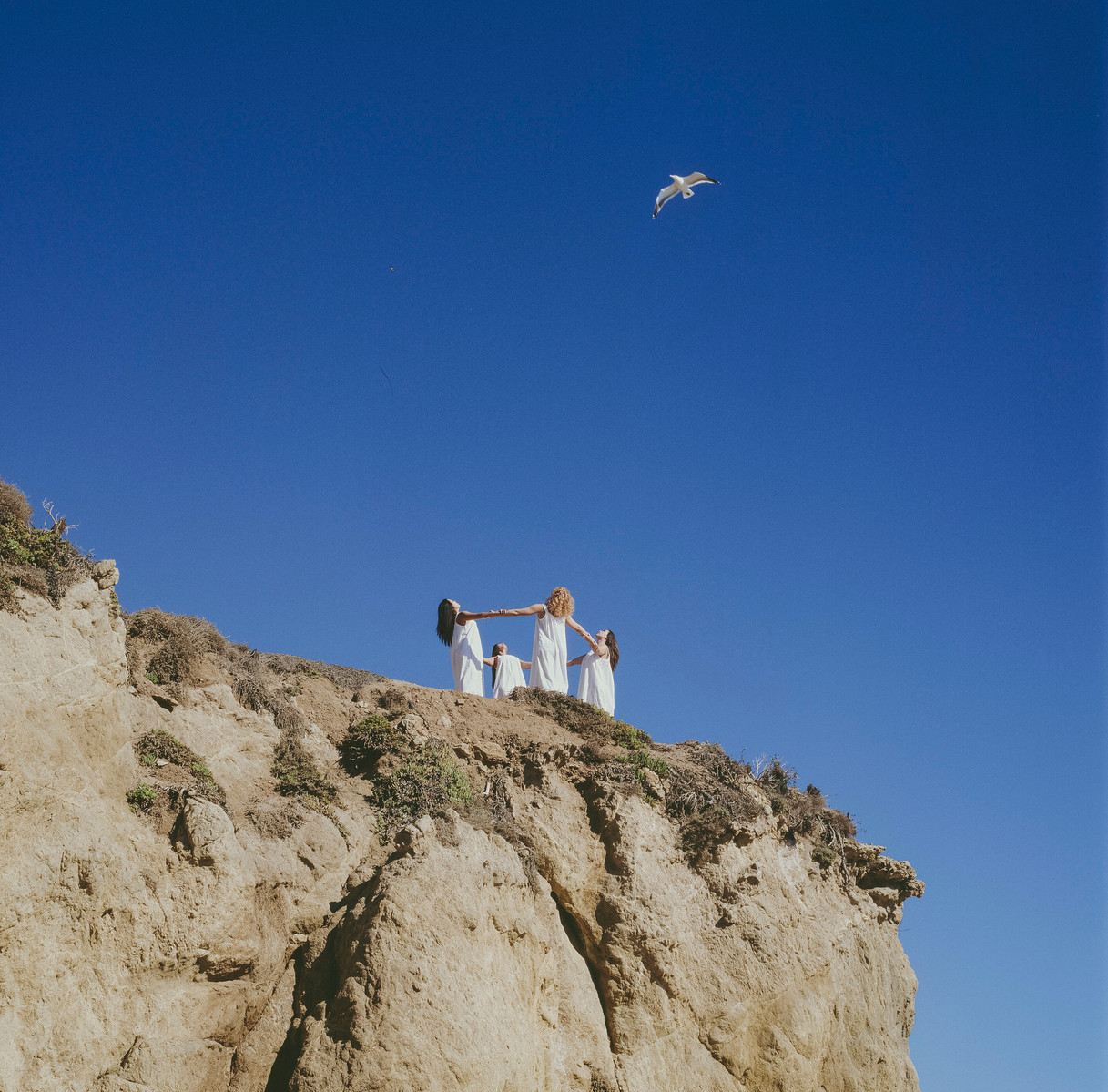 Until now, Forecast has explored the world as we know it, but with the theme of Contemporary Folklore, we delved into the creation of a new one. Mining oral tradition, family lore, and the weird and wonderful minds of our artists, we present 14 distinct worlds that, to varying degrees, reflect and distort the one we live in. Our myths span orthodox Romania to Budapest barrooms; from waspy New England to the underworld to the unsettled, shifting realm of poetry. As always, the stories are accompanied by the staggeringly beautiful constructions of our visual artists, in full-scale representations of the written fictions.
Issue 8 is unique in that it was produced, from start to finish, under quarantine orders. As we settle into our new reality—one rife with fear and dictated isolation—it has become even more important to flex the imagination. Where do we go, in our minds and memories, when day-to-day life halts? Some of us created new lore, as one of our writers, quarantined in Uruguay due to travel bans, did concerning the Yerba Mate plant. Others resurrected myths that speak to mortality, as with the Mesopotamian tale of Ereshkigal and Inanna, and the story Reborn Again, which speaks to the fallacies inherent in identity. Often, the focus was closer to home, as writers drew on rich family histories. In one story, a wild animal reinvents a family's dynamics; in another, a shape-shifting demon reveals hidden family truths. Specifically, the image of the matriarch features heavily in our stories, many of us having first heard folktales from our grandmothers. This theme points to the matrilineal nature of storytelling and reaches back to pre-Christianity, female-centric folk traditions.
One way of looking at folktales is as an indigenous or hereditary story that tells another, more universal truth. Mythology offers a special duality, serving as a conduit for both clarity and curiosity, with messages enmeshed in one another, waiting to be pulled apart. As such, they are necessarily obscured. This opens the field to a variety of forms of communication, in many shades of literalness. The beauty of fiction is the way it interacts with the truth. How does one express honesty under zero constraints? Through these stories, we simultaneously uncover and magnify, expand and contract what we know to be true and what we try to understand.
As Forecast continues to add exploratory media channels, the opportunity for mixed-genre (and mixed-media) storytelling has grown for the artists involved. We are very excited to present our first-ever issue of entirely fiction and poetry; we hope it inspires and challenges you to reach beyond the known, especially in these strange times.
—Anya Johnson, Editor