Format: agency, school, publisher
Location: berkeley, california
Dates: june 2021 - august 2022
Current Status: closed
Transformations of the Human (ToftH) is an independent nonprofit organization aimed at bringing philosophy, art and technology together in a single framework. ToftH explores how contemporary technology disrupts the conceptual presuppositions we humans live by. By doing so we bring into view an aspect of technology usually neglected by research and development: the creation of new realities that we do not yet understand, for which we lack concepts, images, metaphors. Our work is organized in terms of three main pillars: PArT research projects with tech companies; ToftH school; and publishing projects.
"At present, a concern for philosophical stakes is absent from technology research and development. The effect is that tech companies disrupt the concepts we live by without noticing the creative potential: the consequence is a missed opportunity to build products and processes that positively shape the new. ToftH's mission is to change that."

ToftH is headquartered in Berkeley, CA and is powered by a small but mighty team of research and administrative staff. With the support of the Berggruen Institute and board member Reid Hoffman, the program is proud to stand on its own organizationally, practically, and financially.
Tobias Rees, CEO
Kim Newman, COO + CFO

Farida Amar, Creative Director

Clients: Google, Google Quantum AI, X the Moonshot Factory, Facebook, Facebook AI Research, Common Sense Machines, Stanford Bioengineering, Lawrence Berkeley National Laboratory, Human-Centered Artificial Intelligence at Stanford, Element AI, AI4ALL, Antheia, Planet
Artists: Agneiska Kurant, Anika Yi, Brendan Getz, Champ Panupong Techawongthawon, Kalil Joseph, Mara Eagle, Nancy Baker-Cahill, Philipp Schmitt, Pierre Huyghe, Rob Reynolds, Samuel Watterworth, Stephanie Dinkins
Samuel Watterworth
Canadian, b. 1990
watterworth.io
Human Nature Technology, 2022
animated type design
Developed in TouchDesigner using a series of patches and scripts. "Human Nature Technology." These 3 columns of repeating text break apart, with letters floating and blending between each other, blurring the lines between these concepts.
Point data is derived from a grid and put through a physics simulator to create motion. To best capture the idea of human, nature and technology blending together, I used wind, spring and magnet simulations to displace the points. By mapping different parameters of physics to a controller, I am able to trigger motion by throwing objects at the grid and adjusting wind speed and force tensions.
This interplay between myself and the computer allows for organic and uncertain outcomes.
The manipulated point data is imported into tables, and then using scripts, I am able to define which letter corresponds to each point by analyzing the text input. That data is then used to pull the letters from another component and instance them in the correct location for the final render.
This artwork was produced for ToftH under the creative direction of Farida Amar. Stills from this animation have been extracted and used on the cover of the printed ToftH School Cohort 1 Curriculum cases.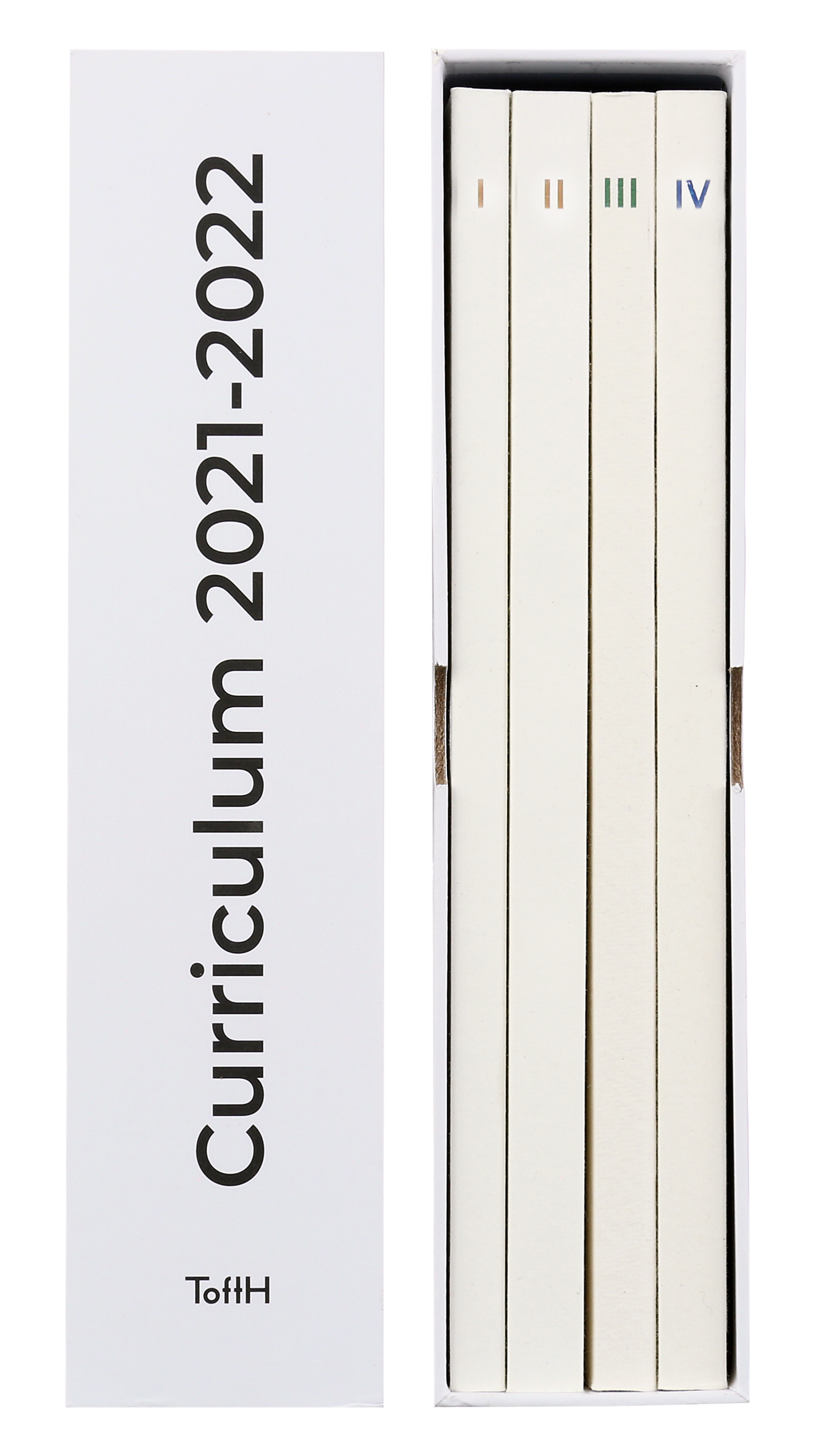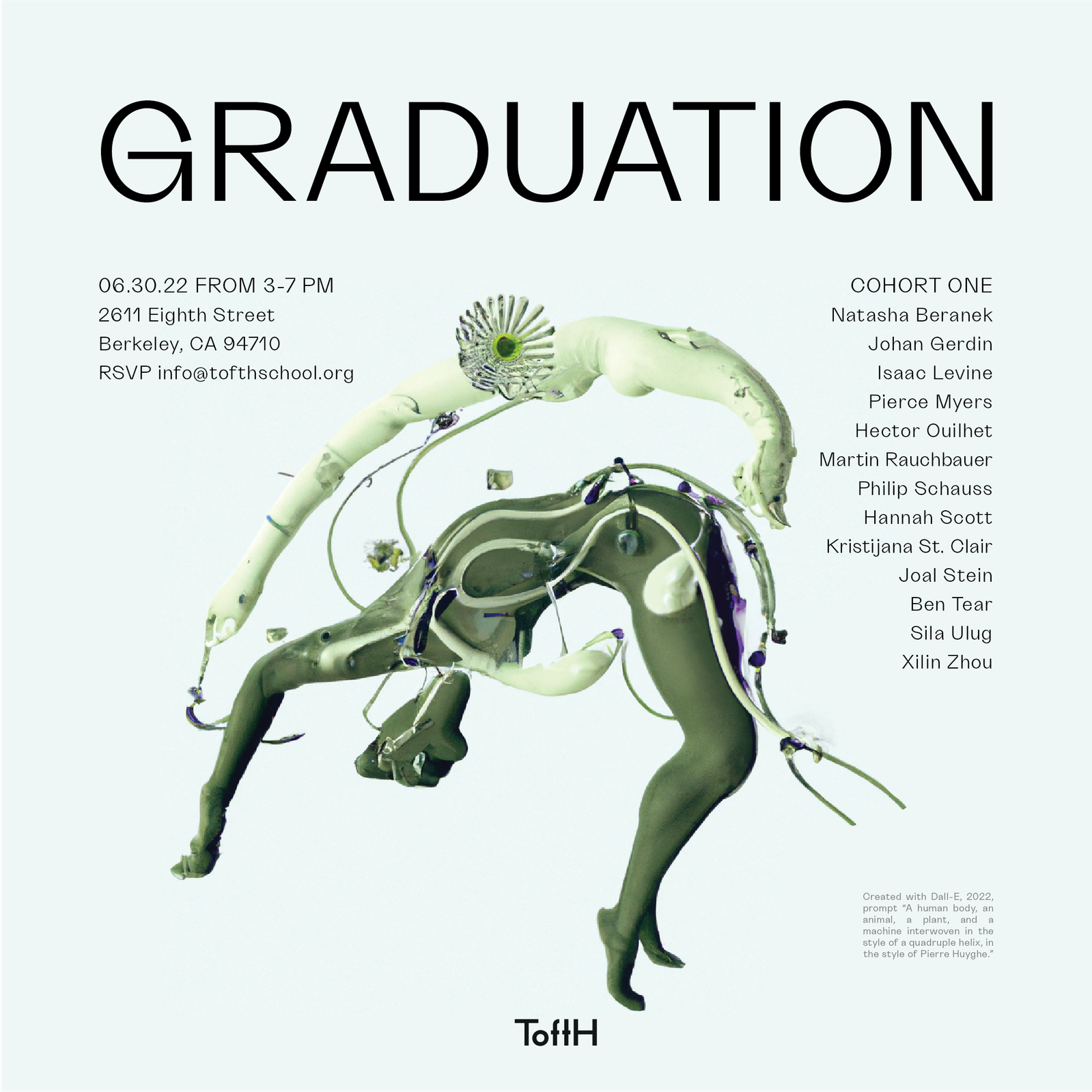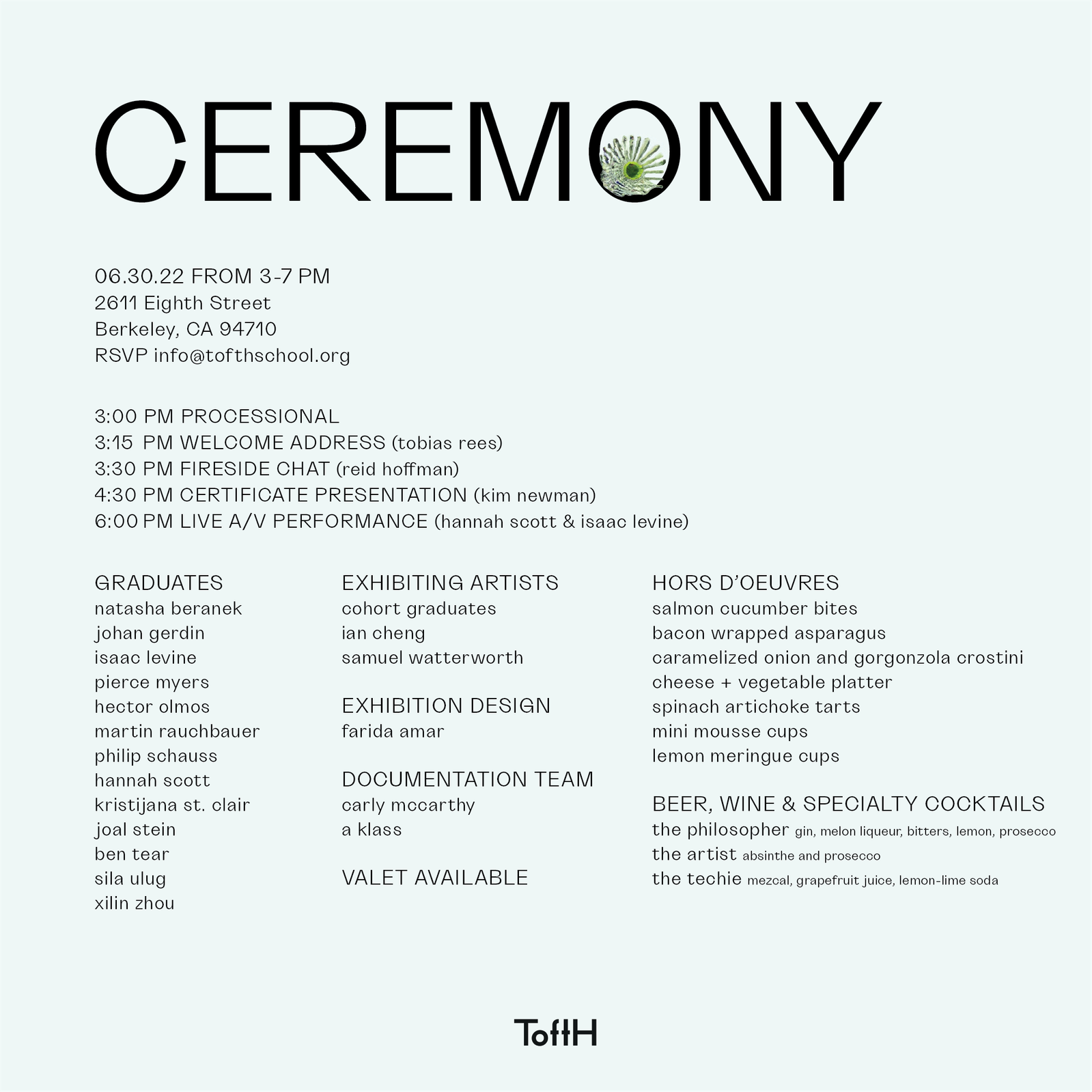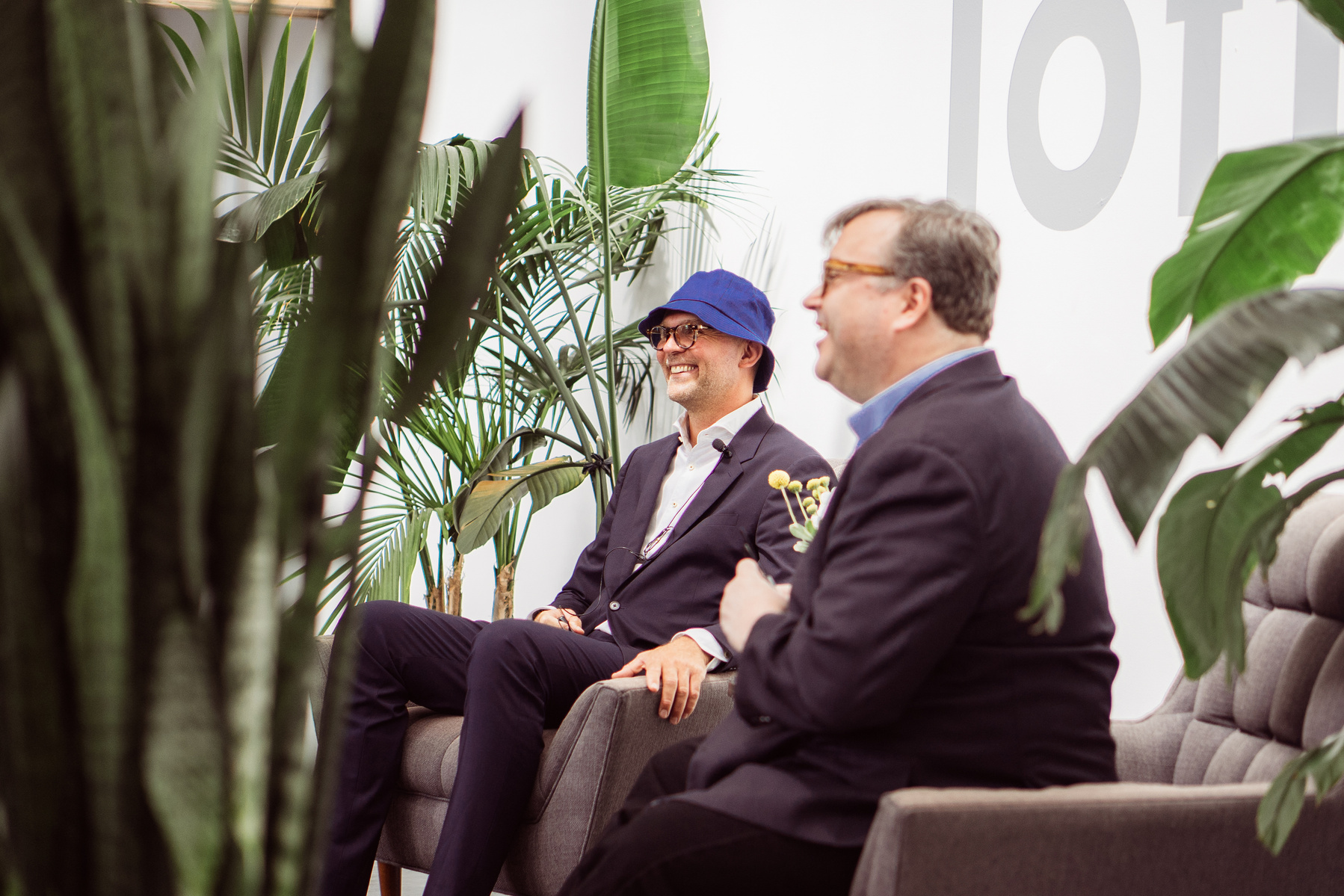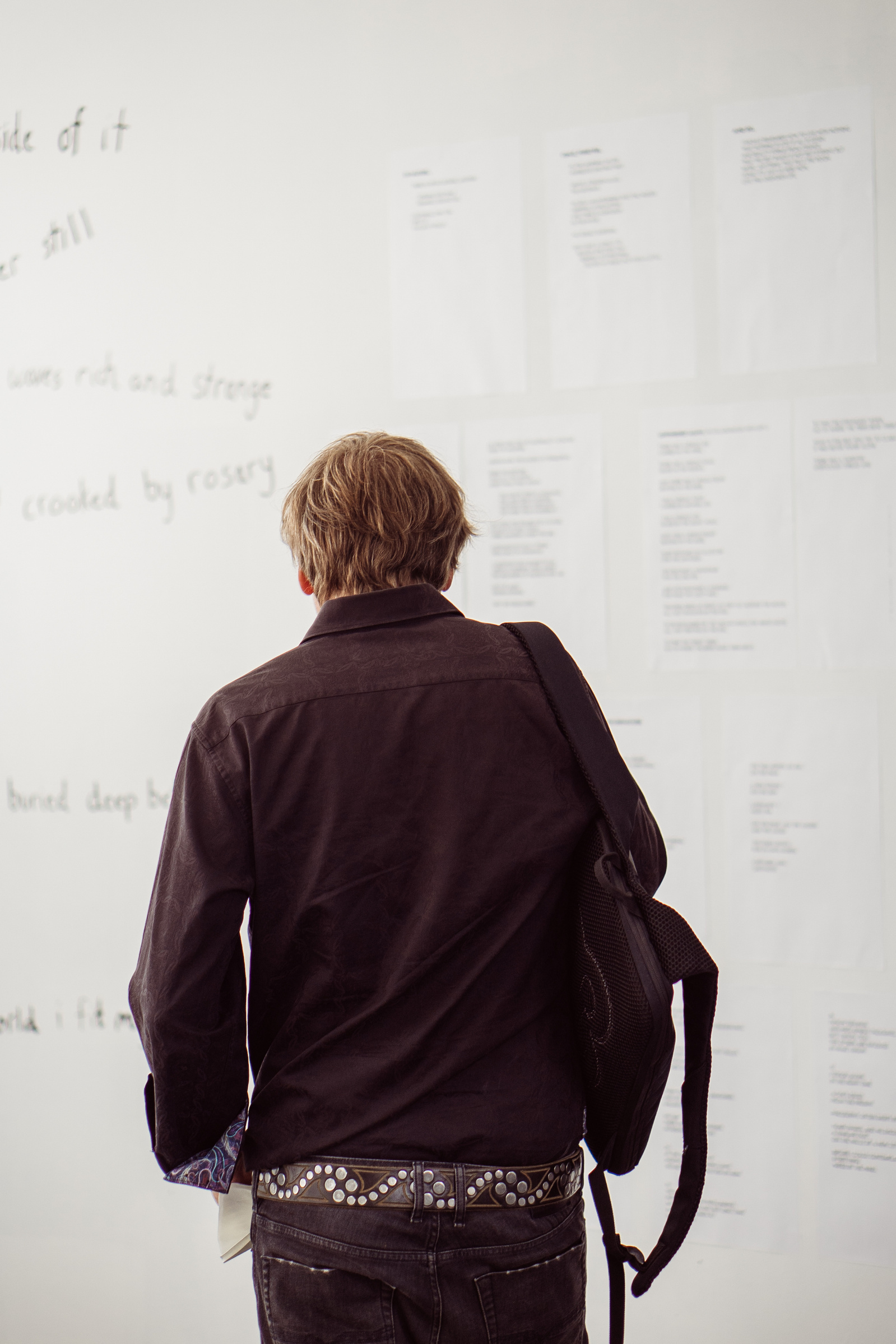 LINE OF FLIGHT
audiovisual performance with two channel projection
Isaac Levine & Hannah Scott
Since the 17th century, Humans have been presupposed to be more than nature, other than technology. The Human, above all, possesses reason, and along with it intelligence, consciousness, and language. Through the formulations of Kant and Baudelaire, we also see the construction of the Human as creative: creativity thus defined as the human-unique capability to produce original meaningful things; what's more, the conceptual structure of creativity prohibits mechanical things from ever being able to do the same, as they lack the secret ingredient of what it means to be Human: Reason.
This anthropocentric conceptual structure of creativity finds itself instantiated in how we understand and produce sound and music. The classical paradigm of sound creation carries a number of characteristics that limit how we can build new composition practices, such as the emphasis on blank canvases, short temporality and time as the unit of change, and the fixity of sound (that is, music travels in the form of fixed objects pre-determined by the human creator).
The goal of this project/performance is to direct us towards the possible newness that awaits us from beyond our conceptual inertia. We aim to produce a line of flight from old concepts toward new spaces of possibility. To do so, we have created an actively listening room where a stack of sensors, software, machine learning plugins, and cameras take in the subtle movements of bodies and the environmental conditions to form a kind of distributed instrument. We offer listening as a musical co-creative relationship wherein neither human nor machine is fully reducible to itself anymore. By emphasizing relational processes over output, listening becomes a mode of relation between agents that forces each to attend to the other and adjust their output accordingly.
This performance tries to move beyond a mode of creation that enlists other intelligences as mere tools – it is not instantiating the end or ideal mode of relating humans to machines. Rather, we are using the tools at our disposal with all their limitations in order to expose precisely where these tools foreclose meaningful co- creative relationships, and to gesture toward how such products might be improved, rethought, and revolutionized to produce humans and machines, and indeed sound itself, differently.